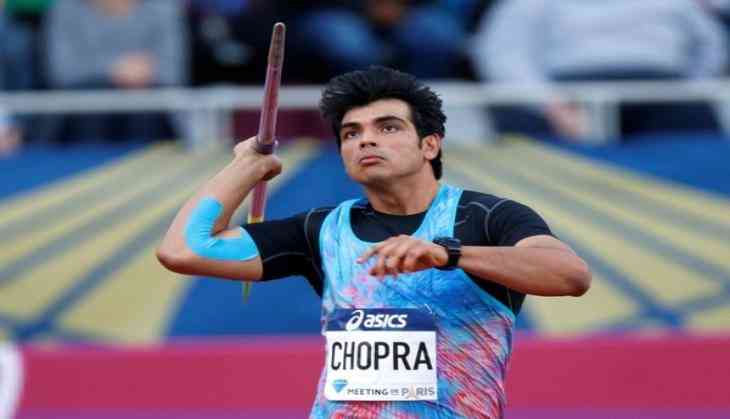 Hosts India, with 12 gold, five silver and 12 bronze (29 medals), topped the medals tally for the first time in the history of Asian Athletics Championships as the 22nd edition of the tournament concluded at the Kalinga Stadium here last evening on 9 July.
The Indian contingent continued their domination on the fourth and the final day of the competitions as they clinched five gold, one silver and three bronze to secure a historic tally and push powerhouse China to second place.
China ended this edition with a tally of eight gold, seven silver and five bronze. Kazakhstan finished third with four gold, two silver, two bronze on third place ahead of Iran, who ended with four gold and one bronze.
Indian teenager Neeraj Chopra's new Asian Championship javelin throw record, the distance double gold medal winning efforts by Govindan Lakshmanan (India) and Dariya Maslova (Kyrghistan) and India's two 1600m relay titles brought a touch of class and emotion to the closing night of the event.
In the men's javelin throw final, Qatar's 20-year-old Ahmed Bader Magour led the competition with a throw of 83.70m on his fourth attempt and seemed set to take gold home from under Neeraj Chopra and Davinder Singh Kang's noses. Neeraj Chopra delivered when it mattered the most on a night when 11 throws went past 80m mark.
Govindan Lakshmanan claimed a fantastic distance double, adding the 10000m gold to the one he won in 5000m two nights ago. Yet again, he showed the finishing kick that saw him surge ahead of Kyrghistan's Adilet and team-mate Gopi Thonakal with more than 300m left.
Gopi staved off a challenge by the younger Kyrghistan athlete to take silver in a race in which the Chinese Danmuzhen Cii Wang and Qi Zhenfei lost touch with the top three well into the 25-lapper.
Meanwhile, in the finals of women's 10000m event, 5000m champion Dariya Maslova (Kyrghistan) completed a double by winning the grueling 25-lapper as well in 32:21.21, pulling away from the two Japanese Yuka Hori (32:23.26) and Mizuki Matsuda (32:46.61).
India's Loganathan Suriya and Sanjivani Jadhav, who won 5000m bronze two nights ago, tried gamely but the endurance of Daria Maslova and the Japanese pair proved too much for them on a humid evening.
Besides Maslova, Govindan Lakshmanan, Neeraj Chopra and women's 4x400m relay team secured the gold medals, women's 4x400m relay team also notched up the gold medals.
India, served by Debashee Mazumdar (standing in admirably for Tintu Luka who was running fever) , M R Poovamma, Jisna Mathew and Asian champion Nirmala Sheoran, ran out a comfortable winner in 3:31.34. Vietnam (3:33.22) and Japan (3:37.74) took silver and bronze.
Meanwhile, Swapna Barman also justified the seletcors' decision not to field her in high jump - where she could have pushed for and perhaps got gold - but struck gold in the arduous heptathlon. With a narrow lead to protect going into the final race, the challenging 800m, the 20-year-old stuck to the simple strategy of being in 21-year-old Meg Hemphill's slipstream. She was barely 0.18 seconds behind the Japanese at the finish to secure gold with a personal best tally of 5942 points. Purnima Hembram, whose javelin throw result let her down, tried gamely but had to settle for third place with 5798 points. The three of them secured season best times in the 800m and were left exhausted after two tiring but rewarding days' work.
In men's 800 metre race, India's Jinson Johnson clinched a bronze medal.
Asian Grand Prix winner Ebrahim R Alzofairi (Kuwait) hung in not far from the front running Mohammed Nasser Abbas (Qatar) for a lap and more but powered ahead over the final 100m to win gold in 1:49.47. India's Jinson Johnson, boxed between the two on the home stretch, was unable to prevent the other Qatari Jamal Hairane from sprinting on the outside to claim silver. He managed to keep Nasser Abbas at bay to take a deserving bronze in 1:50.07, the season's best time for him.
However, the hosts suffered a major setback as their 800 metre runner Archana Adhav, who was initially declared as the gold medal winner, was disqualified for pushing Sri Lankan rival Nimali Waliwarsha Konda from behind near the finishing line. Sri Lanka won their protest and the gold medal was awarded to their athlete Nimali Waliwarsha Konda.
Gayanthika Thushari of Sri Lanka clocked 2:05:27 to make a third-place finish in the race.
-ANI