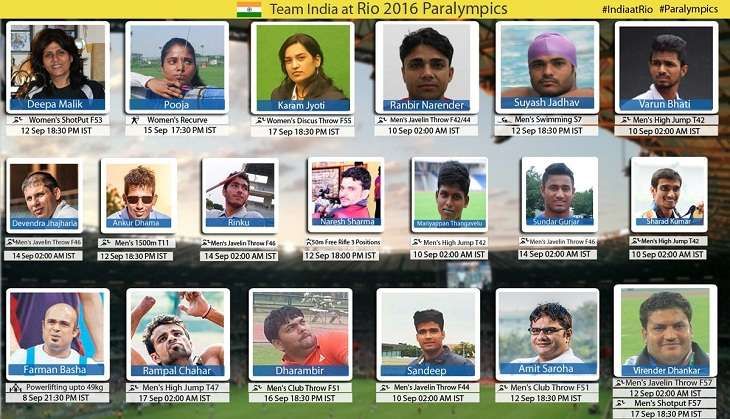 The 2016 edition of the Paralympic Games is set to kickstart on 7 September in Rio de Janeiro. This year will see the largest-ever Indian contingent of 19 athletes taking part in the event.
Amit Kumar Saroha, Devendra Jhajharia, Deepa Malik, Narendra Ranbir, Pooja Rani are among the 19 athletes who will compete in categories including javelin throw, shot put, high jump, and shooting, to name a few.
India's hopes are pinned on Devendra Jhajharia, who bagged a gold medal in javelin throw at the 2004 Athens Paralympics. Others who are expected to bag top honours include Asian Para Games medalist and Arjuna Awardee Amit Kumar Saroha - known for his prowess in the discus and club throw events - and high jumper Mariyappan Thangavelu.
#KnowYourAthlete @Paralympics #TeamIndia #CheerWithUs #OpeningCeremony #CheeringLoudAndProud @Rio2016_en pic.twitter.com/BT6jxoBbNM

— Indian Olympians (@IndianOlympians) September 6, 2016
Here is the list of 19 athletes who will represent the nation in Rio:
Amit Kumar Saroha - Club throw
Devendra Jhajaria - Javelin throw
Mariyappan Thangavelu - High jump
Sundar Singh Gurjar - Javelin throw
Dharambir - Club throw
Deepa Malik - Shot put
Karamjyoti Dalal - Discus throw
Ankur Dhama - 1500m
Basha Farman - Powerlifting
Rinku - Javelin Throw
Narendra Ranbir - Javelin Throw
Suyash Narayan Jadhav - Swimming
Virender Dhankar - Shotput, Javelin throw
Rampal Chahar - High jump
Sandeep - Javelin throw
Sharad Kumar - High jump
Pooja Rani - Archery
Naresh Kumar Sharma - Shooting
Varun Singh Bhati - High Jump
Saroha helped India bag its sole gold medal at the 2004 Paralympics in Athens, while paralympic high jumper Girisha Hosanagara Nagarajegowda won a silver at the London edition in 2012.
The Paralympic Games, held once every four years, aim to provide a platform for athletes with disabilities, where they can showcase their skills and represent their nations at an international level. The 10 categories at the paralympics include impaired muscle power, impaired passive range of movement, limb deficiency, leg length difference, short stature, hypertonia, ataxia, athetosis, vision impairment and intellectual impairment.