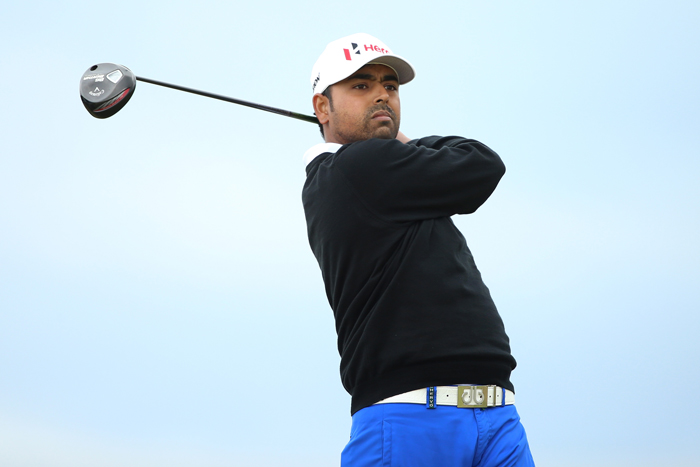 Indian golfer Anirban Lahiri turned in a creditable three-under 69 to be placed tied 16th after the first round of the Hotel Fitness Championships in the Web.com Finals series here.
The 28-year-old Lahiri, buoyed by an automatic selection to the International Team for the President's Cup next month, had five birdies against two bogeys, both of which were three-putts.
Lahiri, who in the morning session was as high as tied third at one stage, was in the end, three shots behind joint leaders, American Tommy Gainey and Argentine Emiliano Grillo, who shot 66 each.
Seven players including Ricky Barnes shot 67 each, while another six carded four-under 68 each on an excellent day for scoring.
Lahiri, winner of the Malaysian Open and Hero Indian Open -- events jointly sanctioned by European and Asian Tours, found 16 of the 18 greens in regulation, but missed half of the fairways from the tee. He finished the day with seven straight pars.
"I think I hit it decent but I wasn't very good off the tee. Any other day I would have said driver would be my best club but it would be the 14th club in the bag today. I was all over the place," Lahiri said.
Lahiri hit some good iron shots but couldn't get the putts to drop. "It was slightly frustrating on the back nine," he said.
"I didn't make anything long or crazy. I did make a 25-footer on number 11 and that was nice, but that was the end of the movie."
This is the first tournament in the Web.com Tour Finals, a series of four events that will conclude at the Web.com Tour Championship in Ponte Vedra Beach, Florida. Twenty-five PGA Tour cards are up for grabs during the four Finals events, as well as positioning for all 50 cards, of which 25 were awarded two weeks ago at the end of the regular schedule.
The two blemishes on Lahiri's cards were bogeys on the first and seventh hole, both a result of three-putts after duly getting to the greens in regulation.
Lahiri, who has committed himself to playing only the first three events in the Finals Series, started with a three-putt bogey on the first hole. But back-to-back birdies on the next two holes quickly brought him under-par.
Further birdies on fifth and eighth and a bogey in between on par-3 seventh meant he turned in two-under. His fifth birdie on the day on par-3 11th brought him to three-under.
Lahiri's second bogey of the day on the seventh was also the result of a three-putt on the par-3 hole. After picking birdies on both par-5s on front nine on second and fifth, he managed only a par on the par-5 after getting into the primary rough off the tee.
On par-five 15th Lahiri went into the rough but came back for a tap-in par. He parred the rest, too, for a 69. No less than 18 players, including Lahiri were tied at three-under 69.
Lahiri who accumulated enough FedEx points to equivalent to 163rd, while still being a non-member, earned a straight entry into the four-event Web.com Tour Finals.
On the eve of the event, Lahiri had made it clear that he was going to play only three events of the four in the final and then take a week off to refresh himself for the President's Cup at the other end of the world in South Korea.
That means he will need to make enough money to stay in Top-25 to make the card, while others are likely to play all four events including the Tour Championships.
Lahiri, when asked if that made it more difficult for him, said, "No, obviously, actually it actually makes it simpler for me. It makes it clear for me. Obviously I'm here. I'm going to try and go for the win or get into a position where I can close it out without having to go to the fourth event.
"Obviously, if I was to look at my schedule and prioritize, the Presidents Cup takes precedence over everything else. So it was a no-brainer for me to go back and get a few days off before I head to Korea.
"In terms of playing new courses, I think of every event that I've played this year in America and Europe every single one of them has been pretty much on a new course. So it's something that I've kind of gotten over mentally about whether I'm comfortable or not. I just get there and I treat it like every other event."
Gainey divided his time between PGA Tour and the Web.com this season with a sole third at WinCo Food Open two weeks ago as the best of the season. Grillo, 22, has been playing the European Tour for past four years with T-3 at the Volvo China Open as the highlight.
-PTI