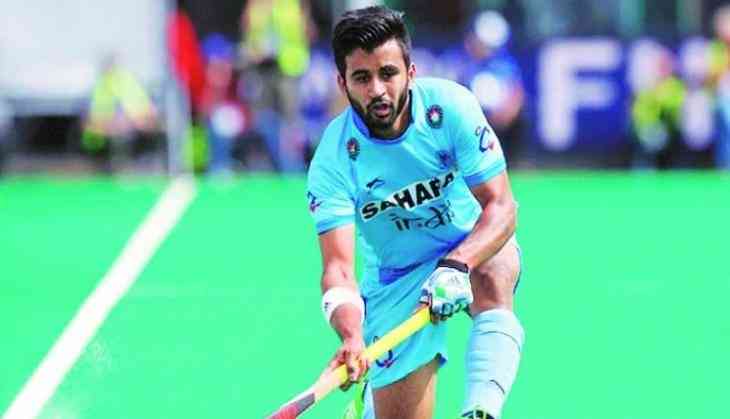 Indian captain Manpreet Singh
The Indian Men's Hockey Team got over an early setback to register an impressive 4-1 win against Scotland with back-to-back goals in the third quarter. It was the kind of start India were aiming for at the Hockey World League Semi Final, which began here on Thursday.
In their next matches in Pool B, India will face a determined Canada and the ever-unpredictable Pakistan in what promises to be high-voltage games on Saturday and Sunday respectively.
While India has had a fair record against Canada, having won their league stage matches in 2015 and 2016 Sultan Azlan Shah Cup with a score of 5-3 and 3-1 respectively, India drew a crucial match against them at the 2016 Rio Olympics.
"Though the team is ranked below us, we don't want to take them lightly. They can come up with a good game and hence it is important for us to stick to the roles assigned by our coach and execute them as planned," expressed Manpreet Singh.
India bounced back into the game against Scotland in the third quarter after going goalless in the first two quarters. A 'pep-talk' by Chief Coach Roelant Oltmans during the ten-minute break at halftime changed the course of the match for India. It was goals by Ramandeep Singh (31', 34'), Akashdeep Singh (40') and Harmanpreet Singh (42') that scripted India's victory.
"We knew we didn't start well. But coach gave us that confidence during the break saying there's still 30 minutes to go and nothing is lost yet. He asked us to bring more energy and aggression into our game. He reminded us about the strategic planning we had made ahead of the match against Scotland and asked us to execute it and not think of the misses we had in the first two quarters," stated Manpreet about the animated dressing room talk.
On Sunday, India will take on its traditional rival Pakistan against whom the team has enjoyed success in the recent past. In 2016, India beat Pakistan 3-2 in both league and final match at the Men's Asian Champions Trophy. India also won the Sultan Azlan Shah Cup match against Pakistan by a convincing 5-1 margin. This will be the first encounter this year between India and Pakistan.
Although Manpreet tried to downplay the hype surrounding the Pakistan encounter, he said the team would put their best foot forward.
"We always look at Pakistan as just another team and we always look at earning those three points from the match to advance in the league stage. They are a good side, but we have had a good start to the tournament. The idea will be to stick to the plans coach draws up before the match against both ( Canada and Pakistan) teams, bring in more aggression into our game and aim at finishing on top of the table in the league stage," expressed an optimistic Manpreet.
He further emphasized that the team has no added pressure as they have already qualified to participate at the Odisha Men's Hockey World League Final Bhubaneswar 2017 this December. "We play with no pressure. We just want to perform to our potential and enjoy ourselves while we give it our best," stated the skipper ahead of their practice session on Friday.
-ANI