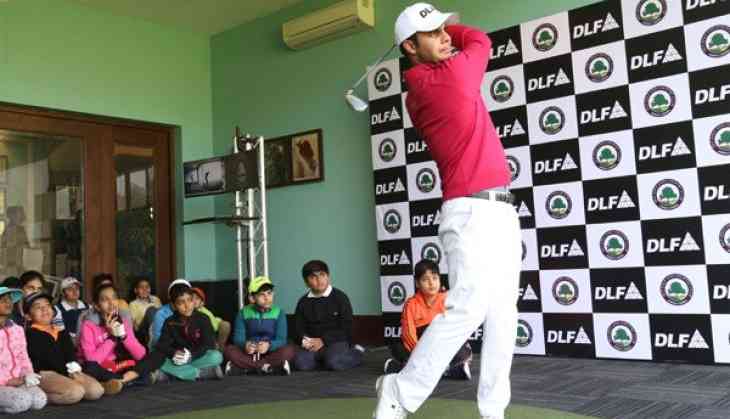 Indian golfer Shubhankar Sharma will continue his quest for a PGA Tour card and a place in the International Team for the Presidents Cup when he tees up at this week's USD 9.5 million CJ Cup here.
The PGA card apart, Sharma also has in his sights, a spot on the International team and the Olympic Games in Tokyo in 2020.
Last week, in his opening start on a PGA Tour event, he was T-10 at the CIMB Classic in Malaysia, after co-leading through 54 holes. It was his second Top-10 this calendar year but in different PGA seasons.
Sharma's disappointment was short-lived as he got a special invite for a nine-hole practice round from South African legend Ernie Els, who is captain of the International team for the Presidents Cup to be held in 2019.
Sharma has time and again stated that it was the memory of Els spotting him at a golf clinic for juniors in New Delhi in 2008 at the Emaar-MGF Masters, an Asian and European Tour event, that set him on road to serious golf.
"We were just chatting a lot about his life on tour," said Sharma of his day with Els.
"He said he's so happy that kids like me are coming up now and that the International Team is actually looking really strong. I think he's a great captain and definitely we'll have a great team together."
Sharma recalled of that day with Els at the Delhi Golf Club and how he caught Els' attention by pulling off a shot that kids before him could not.
"There was like a 100 yard board on the range and I hit both my shots, landed right next to the board. There were two or three kids before me who tried to hit it and they couldn't really connect

"And then Ernie gave me his card, he signed his card and gave it to me and he said, 'You'll be a good player one day, just keep working hard.' So we were talking about it yesterday and it's always nice when I remember that day," he said.
Els, who has featured in eight Presidents Cup, believes Sharma will contend for a place in his International team.
"I played with Shubhankar, who's had an incredible year. He's won a few times around the world in one year and he's only 22 years old," said the 49-year-old.
Of the childhood encounter, Els said he finds it quite amazing that the brief meeting shaped Sharma's view on golf.
"This kind of stories doesn't normally happen. I had the same situation with Gary Player where I asked him for his autograph when I was a kid and he doesn't even remember.
"But it made such an impact in my life and it's amazing how it translates in your mind and changes your life. It's amazing how you can touch lives without even knowing," said Els.
Sharma's close friend and compatriot Anirban Lahiri has played the last two Presidents Cup and like him, or preferably with him, Sharma wants to make the team to Royal Melbourne.
"The next Presidents Cup is going to be huge with Ernie and Tiger (Woods) being the captains. The International Team could have pulled off a great win in Korea (in 2015).
"It definitely ranks in the top three (goals) with the majors and with the WGCs. Playing the Presidents Cup would be a huge honour," he said.
"Anirban has done it, and if both of us can make the team, that will be the icing on the cake."
Sharma was a contender in Malaysia last weekend before slipping back with a closing 72.
Sharma, after the CJ Cup, will travel for next week's World Golf Championships-HSBC Champions in Shanghai.
Both events do not have halfway cuts, so Sharma is hoping to take a big step towards earning his PGA TOUR card via non-member category.
"It's always good when you're in contention at a PGA TOUR event and I've been lucky enough to be in contention twice this year, leading off the three days in both the tournaments," said Sharma, who got into this week's field as the highest ranked player from the Asian Tour.
"I feel like my game's in a good spot and I have two more weeks, this week and next week as well, so try and do my best and we'll see how it goes," said Sharma who finished T9 at the WGC-Mexico Championship in February.
-PTI