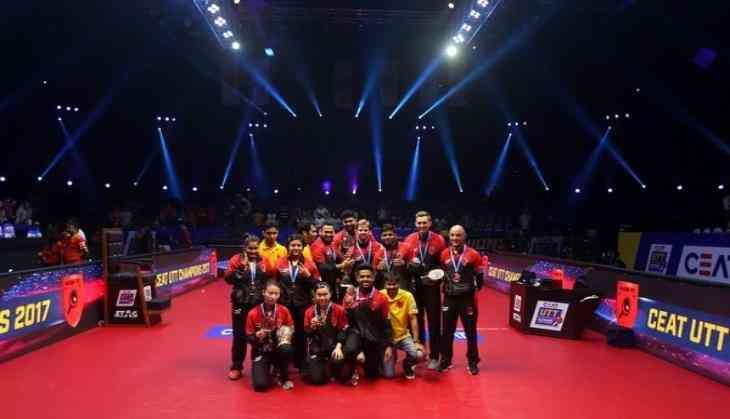 Falcons TTC emerged champions of the inaugural Ultimate Table Tennis ( UTT) after beating Shaze Challengers 14-9 in the final at the NSCI in Mumbai on Sunday.
According to the tournament rules, in the knockout stage the team that secures 14 points first is declared winner.
Li Ping put Shaze Challengers ahead with a 2-1 win over Sanil Shetty in the men's singles, the opening match of the tie.
However, in-form Wu Yang swept aside Mouma Das (Shaze Challengers) 3-0 in the women's singles to hand the lead to Falcons TTC 4-2.
Next up was mixed doubles (Foreign/Indian) and Falcons TTC's pair of Sanil Shetty and Lee Ho Ching brushed aside Soumyajit Ghosh and Petrissa Solja 3-0 to extend their team's lead to 7-2.
Croatian Andrej Gacina of Shaze Challengers beat Briton Liam Pitchford 2-1 in the men's singles (Foreign player category). Falcons TTC led 8-4 at this stage.
Wu Yang then recorded her second 3-0 win of the day to take Falcons TTC closer to victory at 11-4, as she beat China-born German world No 9 Han Ying 3-0 in the women's singles (Foreign player category).
Liam Pitchford rallied to beat Soumyajit Ghosh (Shaze Challengers) 2-1 in men's singles to place Falcons TTC at the doorstep of victory at 13-5.
However, Han Ying put it across Sutirtha Mukherjee 3-0 to lift Shaze Challengers to 8-13 before Par Gerell rallied to seal the title at 14-9 for Falcons after losing the opening game to Li Ping.
-ANI