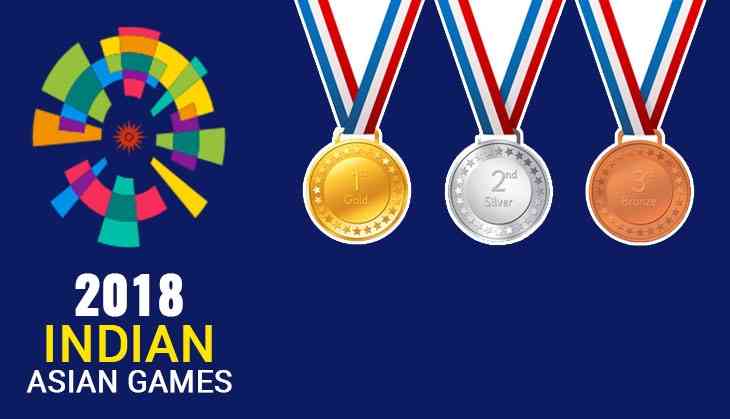 In Asian Games 2018, India added two gold medals in its tally and record their highest ever medal haul at the Asian Games. India's juggernaut performed has given his terrific performance in the 18th edition of Asian Games at Jakarta in Palembang
In the 18th edition of Asian Games leve the most gold medal haul from the 1951 Games.
India have amassed most medals at an Asian Games event surpassing the previous best record of 65 medals won at the 2010 edition in Guangzhou, China. At the 2010 Asian Games, India had collected 14 gold medals, 17 silver and 34 bronze medals.
Now in the year 2018, India collected 67 medals at the Asian Games till now, including 15 golds, 23 silvers and 29 bronzes and are ranked eighth in the overall table.
GOLD MEDALLISTS:
Bajrang Punia – Wrestling (Men's freestyle 65kg)
Vinesh Phogat – Wrestling (Women's freestyle 50 kg)
Saurabh Chaudhary – Shooting (Men's 10 metre air pistol)
Rahi Sarnobat – Shooting (Women's 25 metre pistol)
Sawarn Singh, Dattu Baban Bhokanal, Om Prakash, Sukhmeet Singh – Rowing (Men's quadruple sculls)
Rohan Bopannam, Divij Sharan – Tennis (Men's doubles)
Tajinderpal Singh Toor – Athletics (Men's shot put)
Neeraj Chopra – Athletics (Men's javelin throw)
Manjit Singh – Athletics (Men's 800 metres)
Arpinder Singh – Athletics (Men's triple jump)
Swapna Barman – Athletics (Women's heptathlon)
Jinson Johnson – Athletics (Men's 1500 metres)
M. R. Poovamma, Saritaben Gaikwad, Hima Das, Vismaya Athletics – Athletics (Women's 4 x 400 m relay)
Amit Panghal – Boxing (Men's Light Fly 49kg)
India Men's Bridge Team
SILVER MEDALLISTS:
Deepak Kumar – Shooting (Men's 10 metre air rifle)
Lakshay Sheoran – Shooting (Men's trap)
Sanjeev Rajput – Shooting (Men's 50 metre rifle three positions)
Shardul Vihan – Shooting (Men's double trap) India women's national kabaddi team
Fouaad Mirza – Equestrian (Individual eventing)
Fouaad Mirza, Rakesh Kumar, Ashish Malik, Jitender Singh – Equestrian(Team eventing)
Hima Das – Athletics (Women's 400 metres)
Muhammed Anas – Athletics (Men's 400 metres)
Dutee Chand – Athletics (Women's 100 metres)
Dharun Ayyasamy – Athletics (Men's 400 metres hurdles)
Sudha Singh – Athletics (Women's 3000 metres steeplechase)
Neena Varakil – Athletics (Women's long jump)
Muskan Kirar, Madhumita Kumari, Jyothi Surekha Vennam – Archery (Women's team compound)
Abhishek Verma, Rajat Chauhan, Aman Saini – Archery (Men's team compound)
PV Sindhu – Badminton (Women's singles)
Jinson Johnson – Athletics (Men's 800 metres)
Pincky Balhara – Kurash (Women's 52 kg)
Rajiv Arokia, Muhammed Anas, Hima Das, M. R. Poovamma – Athletics (Mixed 4 x 400 metres)
Dutee Chand – Athletics (Women's 200 metres)
Dharun Ayyasamy, Kunhu Mohammed, Rajiv Arokia, Muhammed Anas – Athletics (Men's 4 x 400 m relay)
Shweta Shervegar, Varsha Gautham – Sailing (49er FX Women)
India women's hockey team
BRONZE MEDALLISTS:
Ravi Kumar , Apurvi Chandela – Shooting (10 metre air rifle mixed team)
Abhishek Verma – Shooting (Men's 10 metre air pistol)
India men's national sepak takraw team
Divya Kakran – Wrestling (Women's freestyle 68 kg)
Roshibina Naorem – Wushu (Women's sanda 60 kg)
Santhosh Kumar – Wushu (Men's sanda 56 kg)
Surya Bhanu Pratap Singh -Wushu (Men's sanda 60 kg)
Narender Grewal – Wushu (Men's sanda 65 kg)
Ankita Raina – Tennis (Women's singles)
India men's national kabaddi team
Dushyant Chauhan – Rowing (Men's lightweight single sculls)
Rohit Kumar, Bhagwan Singh – Rowing (Men's lightweight double sculls)
Heena Sidhu – Shooting (Women's 10 metre air pistol)
Prajnesh Gunneswaran – Tennis (Men's singles)
Dipika Pallikal – Squash (Women's singles)
Joshna Chinappa – Squash (Women's singles)
Saurav Ghosal – Squash (Men's singles)
India men's Bridge Team
India mixed team Bridge
Saina Nehwal – Badminton (Women's singles)
India men's team table tennis
Malaprabha Jadhav – Kurash (Women's 52 kg)
Achanta Sharath Kamal, Manika Batra – Table tennis (Mixed doubles)
PU Chitra – Athletics (Women's 1500 metres)
Seema Punia – Athletics (Women's Discus Throw)
Harshita Tomar – Sailing (Open Laser 4.7)
Varun Thakkar, Ganapathy Chengappa – Sailing (49er Men)
India Men's Team squash
Vikas Krishan Yadav – Boxing (Men's Middleweight (75kg))
Also Read: Asian Games 2018: This how Sania Mirza praised Neeraj Chopra's gesture towards Arshad Nadeem