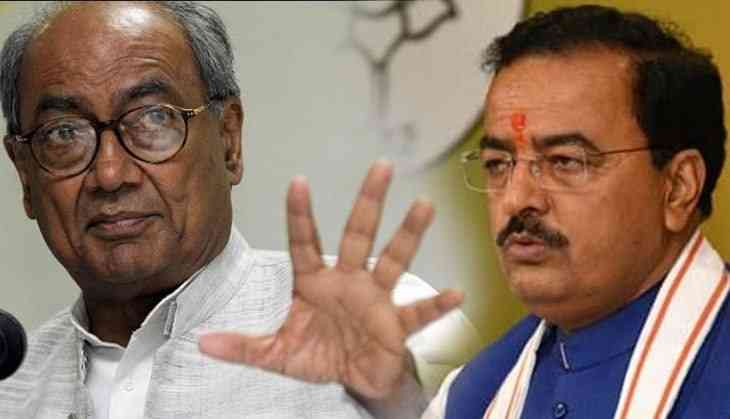 The politics on Pulwama attack and air strike is on the peak after Congress' Digvijay Singh called Pulwama attack an 'accident' several senior BJP ministers lambasted him. However, this time former Madhya Pradesh Chief Minister attack BJP with a video of its Uttar Pradesh's Dy CM KP Maurya terming Pulwama suicide bomber attack as a "big accident" and asks: "Would Modi Ji and his ministers like to say something about Maurya ji?"
Sharing the video on his Twitter handle, Singh wrote, "When I called the Pulwama attack "an accident", three Union ministers branded me a supporter of Pakistan. Now listen to this statement by Keshav Prasad Maurya. Any comments on Modi Ji and his minister?"
पुलवामा आतंकी हमले को मैंने "दुर्घटना" कह दिया तो मोदी जी से ले कर ३ केंद्रीय मंत्री जी मुझे पाकिस्तान समर्थक बताने में जुट गये। उत्तर प्रदेश में भाजपा के उप मुख्य मंत्री जी केशव देव मौर्य जी का बयान कृपया सुनें। मोदी जी व उनके मंत्रीगण मौर्य जी के बारे में कुछ कहना चाहेंगे?

— digvijaya singh (@digvijaya_28) March 6, 2019
In the video shared by the senior Congress leader, UP deputy CM can be heard saying, "February 14 attack was not a security failure but a big accident involving several CRPF personnel. PM has said that the security forces have been given a free hand. Forces will do whatever they see fit."
उत्तर प्रदेश के उपमुख्यमंत्री @kpmaurya1 ने भी #पुलवामा हमले को सुरक्षा में चूक नहीं "दुर्घटना" कहा है। भक्तों इनको देशद्रोही कब घोषित कर रहे हो? या सेना के नाम पर केवल चुनावी रोटियां सेंकनी है? @brajeshabpnews @jarariya91 @AdityaMenon22 @shahnawazk @anandrai177 pic.twitter.com/FYTQzMnuN5

— Anshul Trivedi (@anshultrivedi47) March 5, 2019
After Singh was hugely criticised by rival BJP leader, he responded to them with a dare, "If you are brave enough, then file a case against me," dared Digvijay Singh.
On February 14 suicide bomber rammed an explosive-laden vehicle into a convoy in Pulwama, killing 40 CRPF jawans. Immediately after the attack, Pakistan-based Jaish-e-Mohammed claimed the responsibility. In an avenge to the attack, Indian Air Force strikes Jaish terror camp in Balakot. Now, the air strike, specifically, the death toll has been hotly debated by the Opposition.