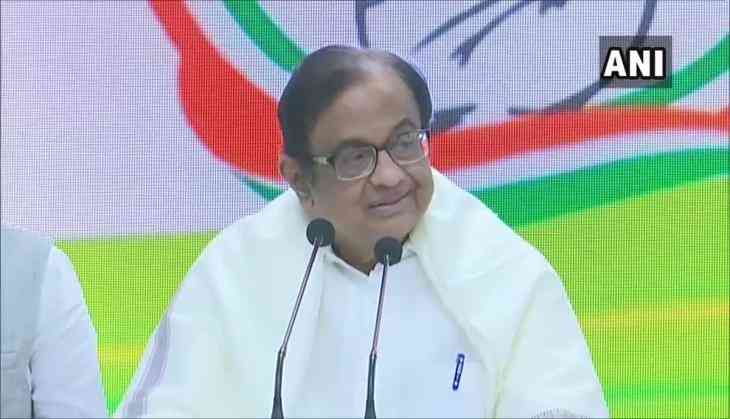 Former Finance Minister and senior Congress leader P Chidambaram on Thursday broke down into tears while answering questions on rape and lynching incidents in the country.
"I am shocked and ashamed as I found at least six incidents of rape in one newspaper yesterday," said Chidambaram at a presser held on Tuesday.

"It's a complete breakdown of law and order situation in several parts of India," the Congress leader said.
#WATCH Congress leader P Chidambaram gets emotional while answering a question on rapes & lynchings. pic.twitter.com/UDwY42vQsl

— ANI (@ANI) December 5, 2019
Chidambaram also hit out at the Modi-led government at the Center over the ongoing economic situation and said, "Prime Minister has been unusually silent on the economy. He has left it to his ministers to indulge in bluff and bluster. The net result, as the Economist put it, is that the government has turned out to be an 'incompetent manager' of the economy."
"We will be lucky to end the year if growth touches 5 per cent. Please remember Dr Arvind Subramanian's caution that 5 per cent under this government, because of suspect methodology, is not really 5 per cent but less by about 1.5 per cent," Chidambaram added.

This apart, the former Union Minister also said on the Kashmir issues, "As I stepped out and breathed the air of freedom at 8 pm last night, my first thought and prayers were for the 75 lakh people of the Kashmir Valley who have been denied their basic freedoms since August 4, 2019. I am particularly concerned about the political leaders who have been detained without charges. Freedom is indivisible, if we must preserve our freedom, we must fight for their freedom."
"My record as Minister and my conscience are absolutely clear. Officers who have worked with me, business persons who have interacted with me and journalists who have observed me know that very well," Chidambaram Said.
Earlier in the day, Chidambaram joined his party MPs in the protest against the soaring onion price in the country.
Congress MPs, including Adhir Chowdhury, Gaurav Gogoi, and others today staged a protest the Parliament premises on against rising onion prices.
The Congress lawmakers staged the protest holding banners and shouting slogans demanding that the Modi-led government reduce the prices and 'stop harassing' the poor, the Congress MPs. The Congress leaders protested with a basket full of onions in the Parliament premises.

Former Finance Minister P Chidambaram, who was released from Delhi's Tihar Jail yesterday after being granted bail in the INX Media money laundering case, on Thursday reached Parliament to attend the ongoing Winter Session.
Worth mentioning here that the Supreme Court yesterday granted bail to Chidambaram in the INX Media money laundering case registered by the Enforcement Directorate (ED).
A Bench of Justice R Banumathi, Justice AS Bopanna and Justice Hrishikesh Roy set aside the Delhi High Court's order which had refused to grant bail to Chidambaram.
The top court observed that Chidambaram shall not tamper with evidence and not influence the witness. He shall not give a press interview and not make public statements with regard to this case.
Chidambaram was also directed to furnish a bail bond of Rs 2 lakh plus two sureties of the same amount.
Also Read: Soaring onion price: Congress MPs stage protest in Parliament premises