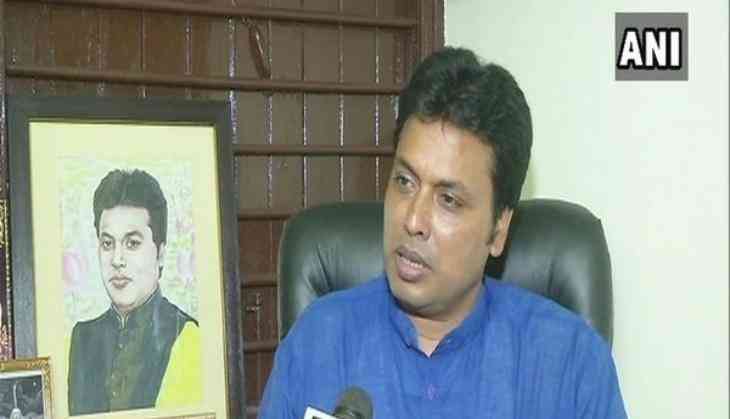 The Tripura government has taken several steps to boost pineapple production in the state by planning to make infrastructure and laying emphasis on export.
Chief Minister Biplab Kumar Deb has recently said "we have to make more infrastructure like creation of food park, laboratory for testing food products, cold storage chains and training programmes for staggered pineapple cultivation to make it available round the year."
"The famous 'Queen' variety which has a GI tag is the best quality of pineapple in the world. The fruit will be exported for the first time to Dubai next month," Deb said.
The 'Queen' pineapple got the GI tag in 2015.
Officials from APEDA (Agricultural and Processed Food Products Export Development Authority), an apex organisation under the Ministry of Commerce and Industry, exporters, importers, logistics providers, scientists from Assam Agriculture University, Railways, Customs, and other government bodies met at Agartala recently to decide on ensuring production of the fruits round the year and export them to foreign countries.
Official sources said the government had also decided to buy pineapple from growers with good support price to encourage them for growing the fruit round the year.
Tripura is one of the largest pineapple growing states in the country and there are more than 100 commercial scale pineapple plantations in the state, they said.
APEDA had earlier helped export the 'Kew' variety of pineapples from Tripura to West Asia.
A delegation, comprising exporters, importers, APEDA officials and those of the state government, also visited pineapple farms and discussed with the farmers about their problems and prospects recently.
The official said the state government would soon make a logo of the 'Queen' variety of pineapple and if the importers like the product, there would be regular business.
Amit Debbarma, a pineapple turned rubber cultivator, at Jumerdhepa in Sipahijala district, says that now he plans to grow pineapple in bulk quantity as it would earn more money.
Many of his fellow farmers echoed the same.
(PTI)