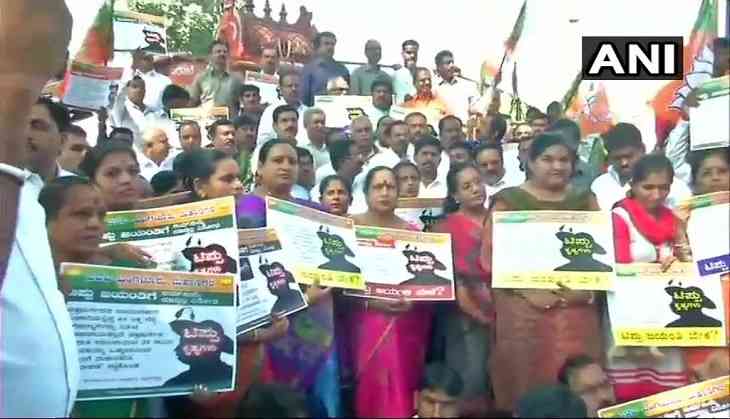 Like every year, the Karnataka government is all set to celebrate the birth anniversary of Tipu Sultan and the BJP has announced a state-wide protest.
The former chief minister B S Yeddyurappa has stated that the state government is trying to appease the Muslims and garner their votes by celebrating Tipu Sultan's birth anniversary, for the Lok Sabha election.
The BJP's chief in Karnataka, B S Yedyurappa said, "We are opposing this (Tipu Jayanti). Nobody will appreciate this celebration. Government's intention behind the Tipu Jayanti celebration is just to satisfy the people of the Muslim community. Even within the Congress and JD(S), people are opposing this."
Congress leader and one of the prominent face in Karnataka politics, D K Shivkumar, however, said that BJP has been opposing the "national patriots" since ages and this is nothing new. He said, "Tipu Sultan has a long history and there is nothing wrong in conducting Tipu Jayanti. The BJP has its political agenda. They want to create some differences between Hindus and minorities."
"To avoid any untoward incident, Prohibitory Orders have been clamped. Processions, display of flags, raising of slogans, etc have been banned, as a large number of people are expected to arrive at Srirangapatna for the celebrations", Mandya Superintendent of Police Shivaprakash Devaraj said to the Deccan Herald.
Deputy Commissioner Sreevidya said in her statement, "In the view of maintaining law and order, besides government programmes and pre-commissioned private events such as weddings, engagement and house-warming, no public or political gathering or processions, agitation, will be allowed. Individuals are prohibited from carrying arms and action will be taken against those making provocative statements. Any flex boards, banners or buntings on Tipu Jayanti will be removed," as reported by The News Minute.
Also read: CBI crisis: Director Alok Verma reaches CVC office for interrogation; Supreme Court to hear the matter on
Karnataka: BJP workers and members stage protest in Bengaluru, opposing #TipuJayanti celebrations which will be observed in the state tomorrow. pic.twitter.com/tUK4NADGMP

— ANI (@ANI) November 9, 2018