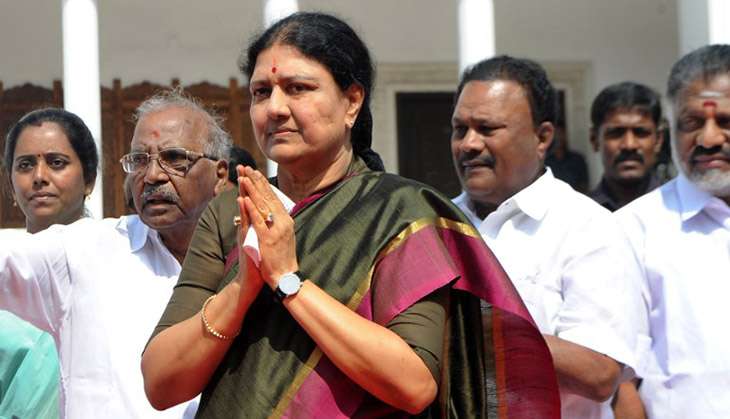 Amid the political crisis in Tamil Nadu, AIADMK General Secretary V K Sasikala has expressed her willingness to "face any probe" over the death of former chief minister of state J Jayalalithaa.
"I am ready to face any inquiry into Jayalalithaa's death. Jayalalithaa knows who I am and how I behaved with her. Even the doctors who treated her know how I had treated her. I don't have any problem with an enquiry commission," she said.
Talking about the swearing-in ceremony, Sasikala said that she hopes the Governor would "uphold the Constitution" and invite her to take oath as Chief Minister.
She also said she was pained at the "politicisation of Amma's death."
Sasikala said that she was looking for an "explanation" why Governor Ch Vidyasagar Rao refused to give her an audience despite many requests.
"We tried to meet him, but was told that the Governor is in Ooty. I hope the Governor protects the Constitution and upholds the dignity of law," she said in an interview to CNN-News18 TV channel.
According to media reports, the governor is first slated to meet Chief Minister O Panneerselvam at 5 pm on 9 Februray after which he will meet Sasikala at 7 pm.
Apparently referring to the questions raised by Panneerselvam, who has rebelled against Sasikala, she said "Amma Jayalalithaa knows who am I. So I don't need to answer anyone else."
Attacking Panneerselvam, whom she called a "traitor", she alleged that his act was a betrayal to Amma and claimed that his actions in the assembly were "suspicious."
She alleged that the opposition DMK is now looking at Panneerselvam as one of their own.
On 8 February, Panneerselvam had ordered a probe into what he said were doubts regarding the death of Jayalalithaa, which would be headed by a retired High Court judge. He had also accused Sasikala of not allowing him to meet the late Chief Minister when she was hospitalised for over 70 days.
--With PTI inputs