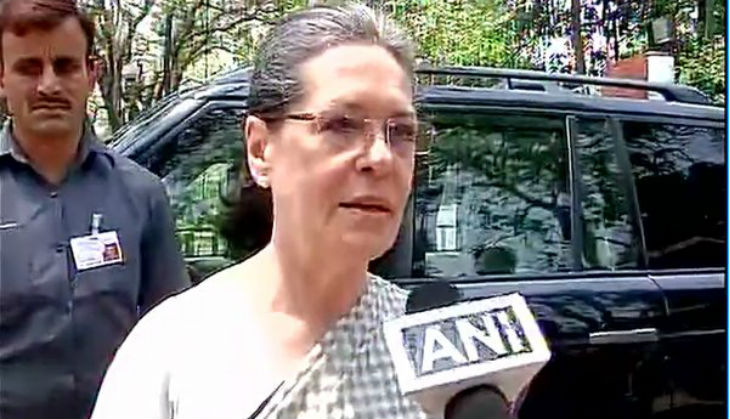 Reacting to allegations levelled against her son-in-law Robert Vadra that a controversial arms dealer bought a 'benami' or proxy-owned mansion in London for him in 2009, Congress president Sonia Gandhi on Monday said that the Prime Minister Narendra Modi led-NDA government is resorting to new lows every day to achieve their target of 'Congress-free India' and dared the Centre to launch a probe.
"All allegations levelled against my family by the opposition are an attempt to attain their goal of Congress-free India. All of it is a conspiracy. Every day they are resorting to new lows, every day they are levelling some new allegations," Sonia told the media in New Delhi.
"If they think they are correct then they should get the matter investigated, the truth will come out in open," she added.
Gandhi further castigated the two-year bash celebrated by the NDA cadre and termed the event which took place at India Gate last week as unethical.
"I have never seen anything of this sort in my entire life. A Prime Minister is a Prime Minister not a Shahenshah (emperor). At a time when the nation is reeling under drought and is suffering from poverty, such celebrations are not ethical," Gandhi said.
According to reports, Vadra is being probed after Income Tax raids on arms dealer Sanjay Bhandari revealed alleged links between the two and cryptic references to a London property.
However, Robert Vadra's lawyers have out rightly denied the charges.
Last month, enforcement agencies raided 18 sites owned by Bhandari. After which it divulged in its reports Vadra and his executive assistant exchanged emails discussing nitty-gritty's for an accommodation in London (12 Ellerton House, Bryanston Square) bought for 19 lakh GBP (Rs 19 crore) in October 2009 and sold in June 2010.
-ANI