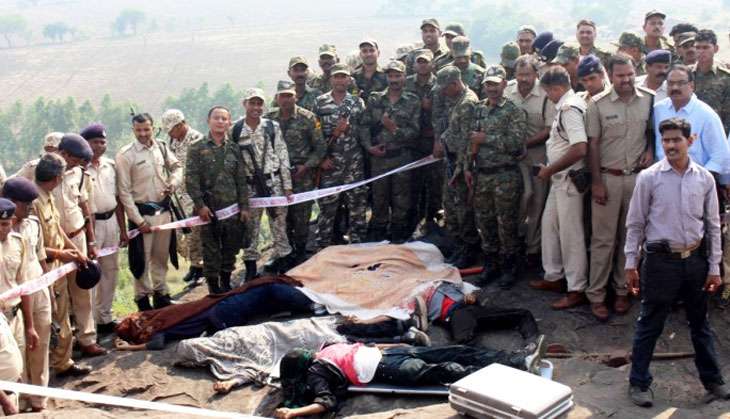 Bharatiya Janata Party (BJP) on 1 November commented that there was no need to question the nation's law enforcement agencies over the elimination of eight Students Islamic Movement of India (SIMI) "terrorists" who broke out of the Bhopal Central Jail on 31 October morning.
It said that political parties should raise the morale of the police for their achievement, rather than always placing them in the witness box of scrutiny.
Lashing out at the Opposition, BJP leader GVL Narsimha Rao told ANI, "You have parties indulging in cheap politics and targeting the security forces rather than praising them. We are facing terrorism threats from both across the border and within and the Congress and other parties are indulging in political opportunism."
Meanwhile, Bahujan Samaj Party supremo Mayawati accused the Madhya Pradesh government of using the police forces for fulfilling the Rashtriya Swayamsevak Sangha's (RSS's) agenda, and demanded a judicial probe into the encounter of the eight prisoners associated with banned organisation SIMI. She further alleged that in BJP-ruled states, the police forces are misused for furthering political and communal motives.
"Eight prisoners related to SIMI were unarmed. They could have been arrested easily again but no attempts were made in this regard. Prima facie this matter appears suspicious and justice demands judicial probe into the entire incident of encounter," she said in a statement.
"It's visible that police is misused for political and communal motives in BJP-ruled states. Police had saved Vyapam scam - which had taken many lives - accused in Madhya Pradesh. Only after Supreme Court intervention, the matter was handed over to the CBI. MP government is using police for fulfilling RSS agenda," Mayawati charged.
Also, Congress general secretary and former Madhya Pradesh chief minister Digvijaya Singh has claimed that the repeated instance of prisoners escaping from jails across the country suggested a larger 'conspiracy'.
"It is a serious issue. First SIMI activists fled the Khandwa Jail. Now they have fled from Bhopal jail. I have been reiterating that RSS activists and other similar organisations are behind the anti-Muslim riots in the country. It should be probed whether there is someone behind this or not," Singh told reporters in the national capital.
The Madhya Pradesh Police while defending its action of open firing on the eight SIMI activits asserted that the escapees were neutralised in 'retaliatory' fire, adding that the suspects have been continuously perpetrating serious offences and also killed police constables in 2008 and 2011.
Bhopal Inspector General of Police Yogesh Chaudhry said, "We garnered all possible resources and launched search and patrol parties after we got intelligence that around 7-8 people were seen by locals. It was difficult to locate them as the unequal terrain was a disadvantage, but soon our team was fired upon when we challenged the suspects."
Following the encounter, all eight suspects were found dead and with weapons, including knives and local-made pistols on their bodies.
Talking about the row over the unverified encounter video - that has now become viral - where the cops are seen opening fire on the escapees, the top cop said he will look into its veracity.
He said, "It was a case of open environment and we will take all matters in consideration as the probe progresses. It is part of our investigation to figure out how they procured weapons after they escaped prison as 3 of our personnel were injured with sharp weapons."
Chaudhry said investigators would also ascertain if the "terrorists" had received any external help to facilitate their escape.
The prisoners' escape and subsequent encounter with security forces reportedly took place under Gunga police station area, about 10 kilometres from the central jail in Bhopal. According to reports, the encounter took place after villagers provided information to the search team.
Five officers of the jail, including the superintendent, have been suspended.
The Centre has sought a report from the Madhya Pradesh Government over the jail break incident.
--with agency inputs