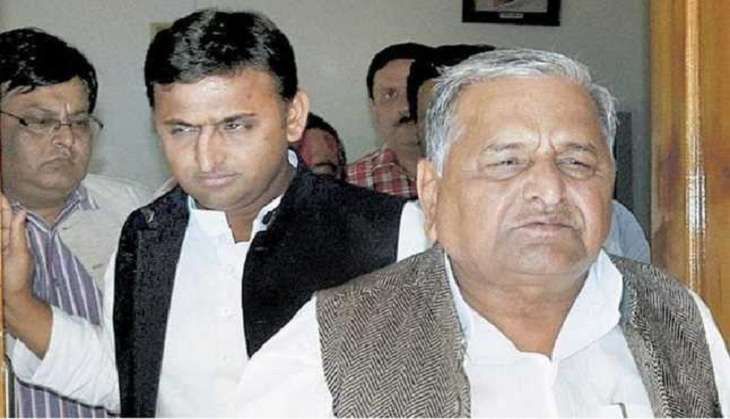 Reiterating his desire for the Samajwadi Party to be united, party supremo Mulayam Yadav on Wednesday appealed to the feuding factions within the party for unity, while accusing the 'other side', in a veiled hint at the Akhilesh camp, of trying to creating a split.
"I am not creating a separate party, nor am I changing the symbol. But they (opposing group) are forming another party. I have conveyed to the other side to not indulge in controversies. I have fought and struggles a lot for this party and have given my all to ensure its unity," Mulayam told his party leaders and supporters in a gathering.
Training guns on Akhilesh Yadav's close aide and uncle Ram Gopal Yadav, Mulayam said that the latter had approached the Election Commission in order to establish a new symbol, as he wanted to form a new party right from the start.
"I have already announced who the next chief minister candidate is. My only concern at the moment is the unity of the party. Only want the party and the cycle to remain firm," Mulayam added.
Meanwhile, repeated meetings between Mulayam and son Akhilesh have reportedly borne no fruit as the impasse seems to continue, especially over the post of the party president.
According to sources, Mulayam told Akhilesh to step down from the post saying that he would remain to be the party's face for the Uttar Pradesh assembly elections.
But, Akhilesh refused the offer saying that he would pass on the baton once the elections are over.
The sources further state that the meeting is likely to take place again to discuss about the same.
Meanwhile, the Election Commission of India has fixed a hearing of both the factions of the Samajwadi Party in connection to staking claim of the party symbol.
The hearing will take place on 13 January.
Although Akhilesh was unanimously elected as the president of Samajwadi Party by his supporters, Mulayam has always maintained that he still holds the post while his son Akhilesh is the Chief Minister.
Speaking to ANI earlier, Mulayam stated that the Samajwadi Party is united and will soon set out to campaign across the state as one.
"For the benefit of the entire state, our party stands united. There is no question of any division whatsoever in the party and we will begin campaigning soon. Akhilesh will be the next chief minister, there is no doubt about that," he said.
On 10 January, Mulayam held a separate meeting with Akhilesh and urged him to withdraw the letter he had sent to the Election Commission (EC) claiming support of 212 out of 229 MLAs.
-ANI