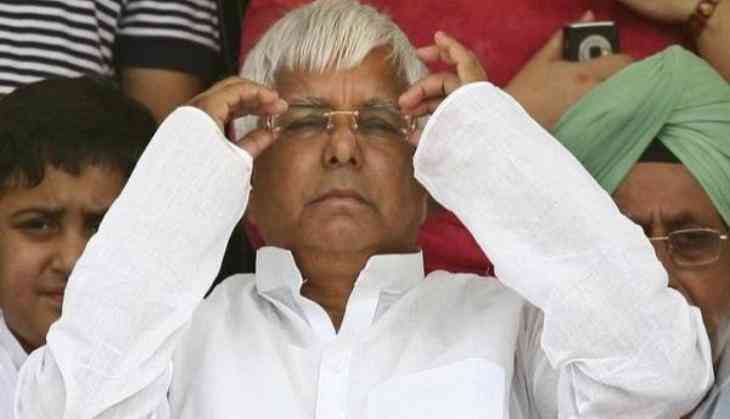 Former chief minister and RJD chief Lalu Prasad Yadav convicted in fodder scam case and currently serving his sentence has availed 3-days parole for the occasion of his elder son's wedding ceremony in Patna. The RJD chief had got the parole bail on several terms and conditions. In the parole related order of Lalu Prasad, it is mentioned that the captive parole period is for three days. It will not be added to the period of uncommitted travel.
In such a case, Lalu Prasad will have to return to Ranchi from Patna on May 14. In the parole-related order issued by prison IG Harsh Mangala, it is mentioned that in the event of violation of conditions, parole will be cancelled immediately. After this, Lalu Prasad will have to return to Ranchi jail.
What are the condition of release on parole of Lalu Prasad:
1. At the end of the parole period, will ensure return to the Kara at the scheduled date and time.
2. Lalu's parole has been taken to join the wedding ceremony of son Tej Pratap. Therefore, Lalu Prasad will not be present at any other event other than the wedding ceremony or elsewhere.
3. Lalu Prasad will not make any kind of press briefing during the parole period. Specifically, Lalu will ensure that no such statement will be issued in social, print, electronic media except for the wedding ceremony. The violation of this rule will be considered a violation of the parole rule.
4. There will be no abusive language used by Lalu during his parole period.
5. Lalu Prasad will consider RIM's medical consultation. Lalu Prasad is said to be medically fit for traveling from RIM's. A doctor from Rims will be deputed with him during his parole duration.
6. Police escort will be given to Lalu during parole by Ranchi SSP. In the period of parole, the jail administration will make a separate register of Lalu Prasad. The information will be given by the jail superintendent to the concerned SHO, SP and Provisioning Officer.
7. Lalu's all movements would be captured by video cameras.
Tej Pratap, RJD MLA will tie the knot with Aishwarya Rai, daughter of RJD MLA Chandrika Rai on May 12 in Patna. The duo got engaged on April 18 in which former Chief Minister, Lalu Yadav could not attend it.
Lalu Prasad Yadav, who is serving his sentence in three fodder scam cases related to fraudulent withdrawals from the Dumka, Deoghar and Chaibasa treasuries had filed a plea seeking for provisional bail before the Jharkhand High Court which got deferred till May 11 on account of a strike by lawyers.
Also read: RJD Lalu Yadav convicted in Fodder scam case, granted five-day parole to attend son Tej Pratap's wedding