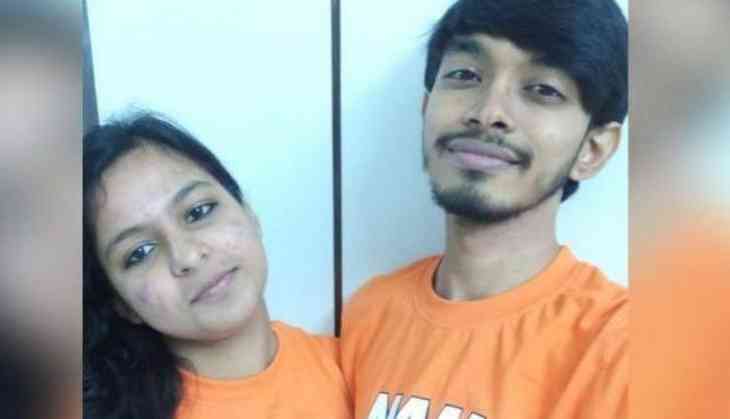 A few days back while scrolling social media wall we all might have come across a viral post of a young woman marrying a man from Gujarat after they found each other on the comment section where they were showcasing their support to Prime Minister Narendra Modi. The duo claimed to felt in love for PM Modi and got married. But here's how the woman's life has turned is no less than horror for all.
The woman named Alpika Pandey and Jay Dave found love in each other over their love for PM Modi and tied the knot. Well, now the woman Alpika has accused her husband, Jay Dave, of torturing and abusing her, reports IndiaToday.
The victim has also accused Dave of using her image for his own publicity in the Bharatiya Janata Party (BJP) and social media. A few days back, Dave posted on Twitter that he commented on one of Congress chief Rahul Gandhi's post which the Pandey had liked and their love story.
"We talked, met and found out that we both support you [Narendra Modi] because we both want to live for India. So, we have decided to do it together." The post had a picture of the couple donning 'NaMo again!' t-shirts attached.
oops! deleted by mistake while I was trying to delete something else pic.twitter.com/nFFNdc2OEh

— જય દવે (@TheJayDave) January 29, 2019
This tweet went viral and shared a number of times. The couple reportedly got married on December 31, last year. Almost after a month the girl took to Twitter and accused Jay Dave of harassing her and his parents of supporting him.
"Here's the other side of the story that you have been hearing about @thejaydave who met a girl on @facebook who liked one of his comments on @RahulGandhi's page. They fell in love and got together as they both supported @narendramodi. Well, I am that girl."
I am just 18 years old and he is 29 although his face doesn't reflect so. First of all, he used my image without my knowledge and consent for his own benefit of publicity. He used this as a means to glorify his image in @BJP and social media. @CyberDost

— Alpika Pandey (@AlpikaPandey) February 2, 2019
Alpika Pandey said her husband tortured her "both mentally and physically till the extent that I tried committing suicide".
"I didn't have the freedom to even step out of their house without a member accompanying me in the name of honour."
"My loyalty for him was doubted to the extent that he clarified many times what was I doing even when I was in the bathroom. I had to show him each and everything I did on my phone or he would snatch my phone away. He never respected my personal space," Alpika Pandey wrote in her Twitter post.
Meanwhile, Pandey also accused Jay Dave of pressurising her to marry him. According to the reports, Alpika Pandey has been staying with her parents since February 1. Her in-laws have reportedly been pressuring her to delete the tweet.
Also read: Honour Killing: Andhra Pradesh woman allegedly killed by father over relationship with a man of lower caste; arrested