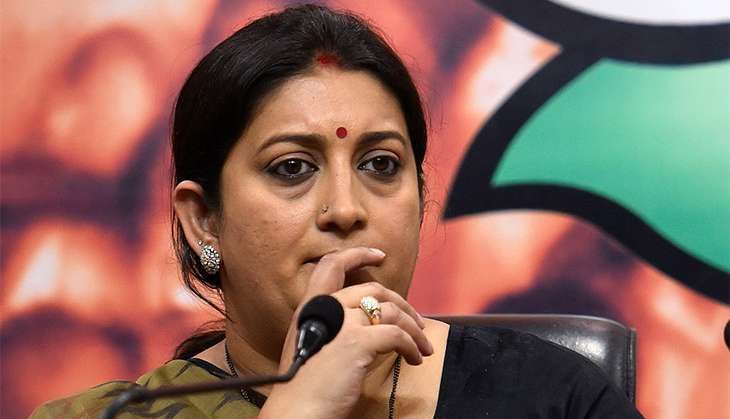 The news that Union HRD minister Smriti Irani had been removed from her post during the cabinet reshuffle on Tuesday has excited students at Hyderabad University who believe that she was one of several people behind the chain of events that led Dalit scholar Rohith Vemula to commit suicide in January.
On Tuesday, Irani was shifted to the textile ministry, and replaced by Prakash Javadekar from the ministry of environment and forests.
Hyderabad University's students' union president Zuhail KP said he was "really happy" that Irani was replaced, according to The Telegraph.
He said: "Rohith's death was caused by the repeated letters of (labour minister) Bandaru Dattatreya against him forwarded by Smriti Irani to the VC. When the two-member committee was investigating the case, she held a news conference (saying it was not a Dalit issue). What was left of an inquiry when the minister had already passed the judgement?"
However, he added: "I have no expectations from the new minister. Persons may change but not policies. Most BJP leaders rise from the ABVP but at least a change of the person at the top offers a small hope which is better than no hope at all, which was the case with Smriti Irani."
Meanwhile, at Delhi's Jawaharlal Nehru University, the students who had been charged with sedition after holding an event in February during which anti-national slogans were allegedly raised, were not so thrilled by the news that Irani has gone.
Irani had justified the police action against the students in an impassioned speech in Parliament.
JNU students' union president Kanhaiya Kumar, who had been arrested for sedition, said: "Let alone punishment, this reshuffle doesn't indicate that the government even realises its crime. Re-allocating ministries is immaterial because Prime Minister Narendra Modi controls all power like the Nazis prescribed - one party, one nation and one leader."
He added: "Replacing Smriti Irani is merely an electoral adjustment to pacify enraged Dalit and young voters in the upcoming Uttar Pradesh and Punjab polls."
JNU student Umar Khalid, also arrested for sedition and now out on bail, said: "We demand that Smriti Irani be sacked. The government isn't even acknowledging her role in his death by merely shifting her. It is a golden handshake in fact, to be sent to textiles."