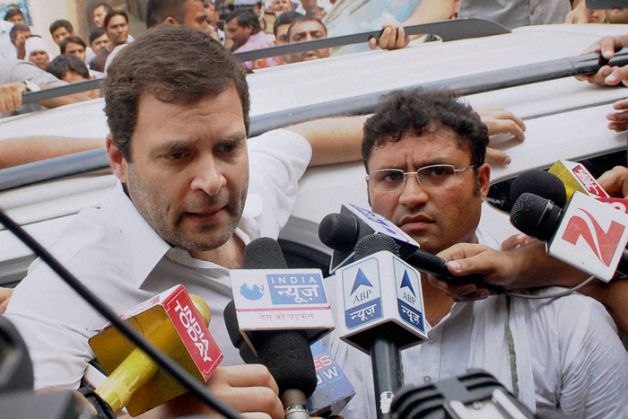 Hours after the Supreme Court declined an urgent hearing on a PIL demanding a CBI probe into Congress vice-president Rahul Gandhi's nationality issue, petitioner ML Sharma said that he should be punished and deported to Britain.
"He has never declared himself as a citizen of India in any affidavits which he filed before the elections. It should be verified and investigated by the CBI. He should be punished under Section 420 and 460 of the IPC. He should be deported from India to the original country he belongs to," Sharma told ANI.
"The basic prayer in my petition is that there should be a CBI inquiry because the matter belongs to two countries. All documents should be corroborated. Some of the documents are signed by Rahul Gandhi himself also, declaring himself as a British citizen," he added.
Sharma urged the apex court to hear the matter on an urgent basis as the issue would be raised in the Parliament.
A PIL was filed in the apex court yesterday seeking a direction to the CBI to register a case against Gandhi for allegedly declaring himself a British national before the company law authorities there.
Accusing Gandhi of declaring himself a British citizen to float a company in the United Kingdom, Bharatiya Janata Party (BJP) leader Subramanian Swamy had earlier written to Prime Minister Narendra Modi demanding that the Congress vice-president be ripped off his Indian citizenship as well as his parliamentary membership.
Swamy had alleged that Gandhi had floated the company Backops Limited declaring himself a British national with a UK address.
The Congress had, however, rubbished Swamy's charges.
Terming it to be an 'error', the Congress produced documents claiming that at the time of floating the company in 2003, Gandhi was registered as an Indian citizen and that he was mentioned as a British National in the annual return forms of the company by mistake.
-ANI