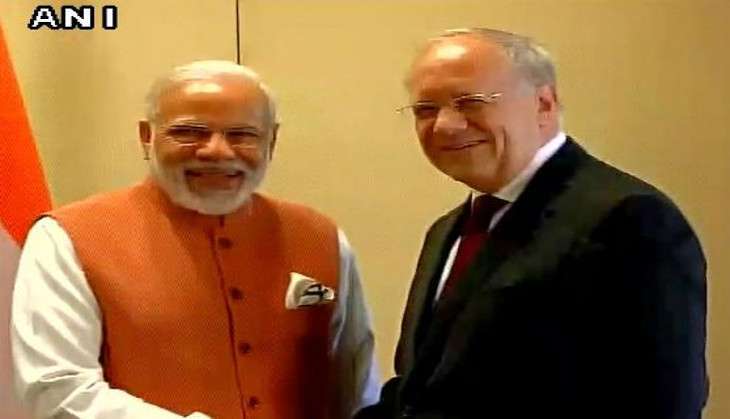 On 6 June, Prime Minister Narendra Modi held delgation level talks with President of Swiss Confederation Johann Schneider-Ammann in Geneva, after visiting Afghanistan and Qatar as part of his five-nation tour.
The visit gained significance as the Switzerland President extended his complete support to India's bid to become a member of the Nuclear Suppliers Group (NSG). PM Modi also raised the issue of black money hoarded by Indians in Swiss banks.
Here are the key highlights from PM Modi's Switzerland visit:
NSG membership:
While delivering a joint statement with Modi, Swiss President Johann Schneider-Ammann, affirmed that they have promised India to support its efforts to become a member of Nuclear Suppliers Group. Additionally, Prime Minister Modi was quoted by ANI as saying, "We have both agreed to support each other for our respective bids for the non-permanent membership of the UNSC."
Issue of black money:
PM Modi also raised the issue of black money and said that combating the problem of black money and tax evasion was on the priority list of both the countries and both were keen on finalising an arrangement that could pave the way for automatic exchange of information on tax-related issues.
Swiss model of skill development:
Apart from talking about NSG membership and black money, Modi also invited Swiss companies to partner India's economic growth. He informed the Swiss watch industry that diamonds in Swiss watches come from Gujarat, which will intensify the scope of a partnership.
He also thanked Bollywood for familiarising the country with the beauty of the Swiss landscape.
Prime Minister Modi will next visit Washington and meet US President Barack Obama during the next leg of tour.
--With ANI inputs