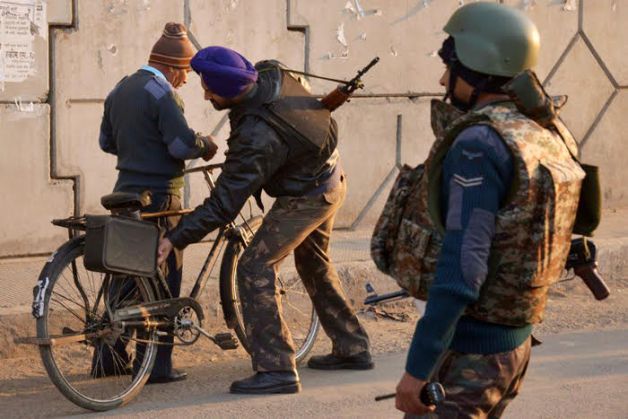 The terrorist attack at the Pathankot Air Force base has been one of the toughest challenges Indian security forces have faced in recent times.
Alleged Jaish-e-Mohammad terrorists stormed the airbase at 3 am on Saturday. Since then, it has been a never ending operation with intermittent gun battles continuing through Sunday night.
The intense gun battle on Saturday stopped at 12 pm, after Indian security forces gunned down four of the militants.
When the combing operation resumed on Sunday morning, one would have assumed it wouldn't take long for the security forces to flush out any holed up terrorists.
However, two terrorists were still inside the airbase.
While one terrorist was cornered and killed, there is no update on the other one. As of now five militants have been killed.
In the course of the Operation, India lost another Jawan - National Security Guard's Lt Col Niranjan Kumar, 34.
He was killed while moving the explosive-laced body of a terrorist.
Family members mourn demise of NSG Lt Col Niranjan as mortal remains arrive at Bengaluru residence #PathankotAttack pic.twitter.com/MZOAwIL2fd

- ANI (@ANI_news) January 4, 2016
Five other commandos were injured in the blast.
There was more bad news in store. Three other Jawans who were gravely injured in the gun battle with militants on Saturday succumbed to their injuries, taking the military casualty number to seven.
Here's the list of Jawans India lost in the Operation:
Corporal Gursewak Singh, a Garud Commando of the Air Force, who was married about 45 days ago.
Subedar Fateh Singh, 51, who won a gold and silver medal at the first Commonwealth shooting championships in Delhi in 1995.
Lance Naik Phoolwant Singh from Gurudaspur.

Sepoy Sanjiv Kumar.

Sepoy Mohit Chand.
Eight Indian Air Force and 12 National Security Guard personnel were also injured in the Operation.
Addressing a press conference, Air Marshal Anil Khosla said that the "operation was at a mature stage" but fell short of giving a deadline to it.
Also Read: Here's how Pakistan's civil society is reacting to the Pathankot terror attack
Security deployed outside Indian Air Force Base in #Pathankot (visuals deferred by unspecified time) pic.twitter.com/5GYWZLPRRS

- ANI (@ANI_news) January 4, 2016
The government, on its part, has denied any intelligence failure. Union Home Secretary Rajiv Mehrishi said: "Due to active intelligence inputs and advance information, the security forces, especially the Air Force, were able to protect the air force assets."
The Prime Minister went into a huddle with Ajit Doval and foreign secretary S Jaishankar on Sunday night to discuss the attacks. He was also briefed about the ground situation by Defence Minister Manohar Parrikar.
The Pakistan Link?
The attack that comes a week after Prime Minister Narendra Modi's surprise visit to Lahore to wish his Pakistani counterpart Nawaz Sharif, is being seen as an attempt to derail the resumed bilateral dialogue between the two countries.
Preliminary investigations have revealed that the six terrorists are allegedly members of the Pakistan based Jaish-e-Mohammad.
Also Read: Pathankot Attack: Thumbs-up for Modi. There's no 'scrap the talks' chorus now
Minister of State for Home, Kiren Rijiju said: "We have credible information that this attack was sponsored by some elements across the border."
According to an Indian Express report, following a security alert from NSA Ajit Doval, the Intelligence Bureau intercepted several phone calls made by a member of the Jaish unit in Pakistan. In one of the most chilling intercepts, a man with a thick Punjabi accent is heard telling his mother, "I am going to be a martyr".
However, India has refrained from the usual rhetoric of "we will teach them a lesson" after the initial leads of a possible Pakistani link emerged.
The Prime Minister was also very guarded and cautious in his response while saying the attackers were enemies of peace.
India, however, is likely to take up the issue with Pakistan during the foreign secretary level talks on 15 January.
Some unanswered questions
Understandably, a high security alert was ordered right after the alleged JeM terrorists seized the SUV of Salwinder Singh, a Superintendent of Police-rank officer and kidnapped him.
Reportedly, anticipating an attack on the Pathankot air base, National Security Advisor Ajit Doval ordered an elite unit of the NSG to be moved there.
The question is: Despite a specific intelligence input and apparent preparedness, how could the terrorists manage to enter as deep as 25 km into the 1600 acre defence installation that is home to vital air assets like MiG-21 Bison fighters and Mi-35 attack helicopters?
Further, the operation has been going on for 36 hours now. Clearly, the question one is tempted to ask is that with the best of our forces, from IAF officers to NSG commados at work and military casualty on the rise, how long will it take to neutralize all the terrorists and sanitize the area.
Also Read: Has Pathankot attack exposed Pakistan's doublespeak?
The most important question is why wasn't security beefed up on the route which is often taken by smugglers to peddle drugs even though we saw a very similar attack being carried out by terrorists using the same route just six months ago.
On July 27 last year, terrorists struck at the Dinanagar police station in Gudaspur district of Punjab, killing seven people - three civilians, Superintendent of Police Baljit Singh and three home guards.
Read More: Commando battalion to be established in Pathankot: Punjab deputy CM
Why were no lessons learnt from Gurdaspur attacks?