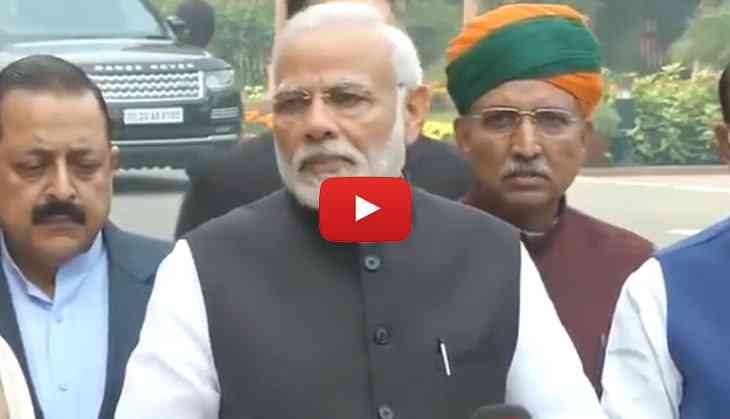 Winter session of Parliament has begun from today onwards amid state assembly election results counting day. Prime Minister Modi has given some advice to the lawmakers who will form the government in the five states.
'I hope members will spend their time in the house for the welfare of the people, not for themselves or their parties,' said PM Modi.
Also read: Assembly Election Results 2018 LIVE Update: BJP takes lead on 113 seats in MP; Congress glorifies Rajasthan with 95 seats
The Winter session of Parliament will soon to see the united criticism against the government and its functions like the exit of RBI governor Urjit Patel, CBI vs CBI controversy and the Rafael deal controversy. On the other hand, parties like Shiv Sena is all set to raise their voice for Ram temple in Ayodhya.
PM Modi also said that this session of Parliament will be important because many public issues will be taken up.
'I have faith that all the members of the parliament will respect this sentiment and move ahead. Our efforts are that discussions are held on all issues,' PM Modi said.
See video:
I hope the productivity of this Winter Session is high. Let us strive to work hard and complete the pending legislative agenda. May national interest always prevail over party considerations :
- PM @narendramodi ahead of #WinterSession of Parliament

pic.twitter.com/CUj4qQAGxv

— Archie (@archu243) December 11, 2018
He urged that the differences should be kept aside but, it is necessary that something should be discussed over the issues in the session.
Moreover, the session coincided with the state assembly election results day in five states. The election results in five states are considered as the semi-final battle ahead of 2019 Lok Sabha Elections.
On Monday, PM Modi had also said that the government was ready to discuss the topics of national interest in Parliament but opposition must ensure the house works smoothly.
Also read: Assembly Election Results 2018: 'Trends reflect that BJP's victory chariot has been halted,' said Shiv Sena