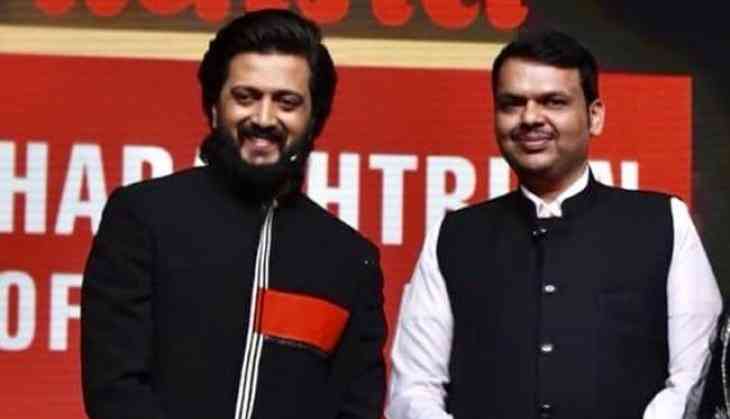 Bollywood actor Riteish Deshmukh on Wednesday questioned Maharashtra Chief Minister Devendra Fadnavis over the next Prime Minister Candidate in an award ceremony in Mumbai, on which Fadnavis respond that the post for PM has been booked for the next two general elections, in an apparent reference to Prime Minister Narendra Modi.
On Wednesday, Riteish Deshmukh at the Lokmat Maharashtrian of the Year Awards 2019 in Mumbai asked who from Maharashtra, including Sharad Pawar and Nitin Gadkari, can become the Prime Minister. To which Fadnavis said, "Let me tell you, this question does not arise, because the post for prime minister has already been booked... the PM seat is booked till 2024 and 2029. Therefore, there is no question of anyone else occupying the post."
"Though, I would be more than happy if someone from Maharashtra becomes the Prime Minister after that," he added. Bollywood actor Reitesh Deshmukh interviewed Fadnavis at the function organised and hosted by the Lokmat Group.
On the details of how the Shiv Sena-BJP pre-poll alliance was reached, Fadnavis said, "Everything cannot be disclosed at this moment."
"When we reached Matoshree, Rashmi (wife of Uddhav Thackeray) treated us to delicious snacks — vada pav, sabudana khichdi… After that, there was nothing left to discuss. Moreover, Sena and BJP have always been close associates and worked together."
"Forging an alliance with our old ally Shiv Sena was necessary and this is the political reality in the present situation when all non-natural allies are ganging up to fight against us. Our workers understand this very well and support the alliance," he added.
On Monday, Maharashtra ruling party BJP announced its alliance with its ally, Shiv Sena, ahead of upcoming Lok Sabha election.
Also read: Shiv Sena threatens to pull out of alliance with BJP over confusion on Maharashtra CM post