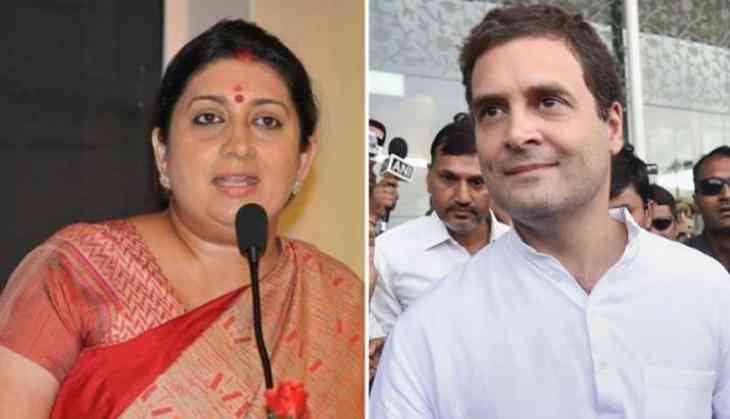 The union minister Smriti Irani who is contesting general elections from Amethi seat against Congress president Rahul Gandhi has asked why he (Rahul Gandhi) is absent from Amethi. While talking to media, Smriti Irani asks why Rahul Gandhi is contesting from two seats and accused that he is not being concerned about the people of his constituency.
"It is for the Congress party to tell the people of Amethi why Rahul Gandhi is absent from Amethi. It is for the workers of Congress party to explain why he is contesting from two constituencies," Smriti Irani said.
Taking Rahul Gandhi on attack, Smriti Irani makes a new allegation on Congress president and said, "A person died as he was denied treatment at the hospital where Rahul Gandhi is trustee, in Amethi just because he had Ayushman Bharat card. Ye parivaar itna ghinona hai ki ek nirdosh ko maut ke ghat utarne ko taiyar hai sirf isliye kyunki unhe apni rajneeti pyari hai (This family is so brazen that they can let an innocent die for their political gains)."
Also responding to Priyanka Gandhi Vadra who is now active on politics, Smriti Irani said, "She doesn't even aware of my name 5 years back and now she keeps taking my name, such an accomplishment. Nowadays she forgets taking her husband's name and takes my name more."
However, according to a media report, voters from booth number 155 in Amethi boycotted the polling accusing 'lack of development'. The constituency will see a major fight between Rahul Gandhi and Smriti Irani. Let us tell you that in 2014 General elections Smriti Irani gave a tough fight to Rahul Gandhi and lost by a minor gap.
Also Read - Cancer patient urges Ajay Devgn to not promote Tobacco after his popular commercial