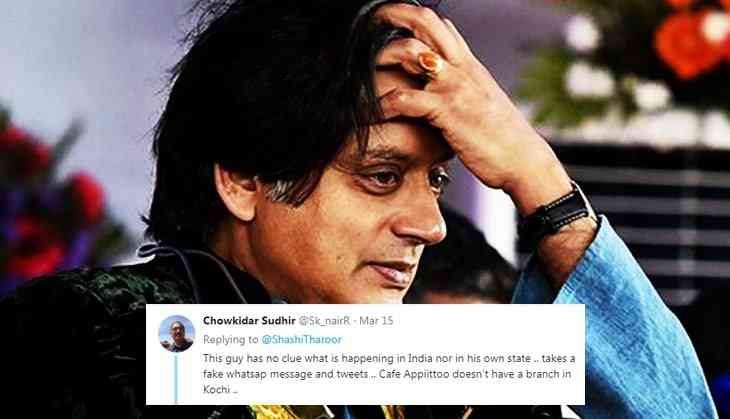 Congress MP Shashi Tharoor who is known for his Tharoorian dictionary amongst netizen, has been trolled brutally on social media for his recent post.
However, we have rarely seen Shashi Tharoor committing blunder while posting his tweets on the micro-blogging site. Unfortunately, this time he made a blunder and Tweeple has taught him a lesson for the error that he committed.
Recently, Tharoor took to Twitter to make fun of Ahmedabad's famous hotel chain which is popularly called as 'Appiitto'. The chain has also opened its new shop in Kerala and literal translation of the name in Malayalam means, 'Did you poop?'
Also, he made a mistake in his post by locating Ahmedabad in North India.
Instead of making fun of the chain, Congress MP got trolled as Twitterati took a jibe on his tweet and wrote some leg-pulling comments on Twitter.
Check out his tweet:
The hilarious consequences of most North Indians' ignorance of Southern languages! Popular restaurant chain in Ahmadabad recently opened its outlet in Kochi. But the hotel is struggling to find patrons. If they asked a Malayalam-speaker, they would understand why! pic.twitter.com/tsTMasui3l

— Shashi Tharoor (@ShashiTharoor) March 15, 2019
This tweet made Twitterati to behave like his teacher and soon, Tharoor have to face a lot of trolling comments.
Check out how Twitterati reactions:
Ohh.. Ahmadabad moved to North from West India. I wasn't aware of that.

— Subodh Saxena (@subodh_saxena_) March 17, 2019
Isn't "Ahmadabad" spelled as Ahmedabad?

— Amal A R (@AmalAR20) March 18, 2019
Everything north of kanyakumari is North India

— Chowkidar Sachin Shah (@sshah_sachin) March 15, 2019
While this is funny Shashi, but two things:

1. Gujarat is Western India. Why you guys love labeling? If you do, label all 4 parts of India, please.

2. We have 100+ languages. Should we learn all? How many of you Malayalis know Gujarati or even Hindi. Isn't it ignorance?

— Pankaj Bengani (@pankaj_bengani) March 15, 2019
First of all it's Ahmedabad!

Second of all, calling Ahmedabad, a city of Gujarat, a part of North India is as same as calling all the South Indians "Madrasi"

I expect better things from you! 😊

— Naveen Bagga (@naveenbagga1) March 17, 2019
Sir Ahmedabad is in West India not in North India. It is businessman fault not whole north India fault that they don't know the other languages. Most of the north indian languages are on same devnagri lipi however south indian languages have Brahmi lipi two entire different lipi.

— _neutronism_ (@_neutronism_) March 18, 2019
@vishnuak_8 😂💩
Sahi me ?? 😆

— Virendra Rawat (@virendr_here) March 17, 2019
What a bad luck for Tharoor, the grammar nazi of our country!
Also read: Manohar Parrikar Funeral: Twitterati in grief and sorrow; say, 'Humne ek achche neta ko kho diya'