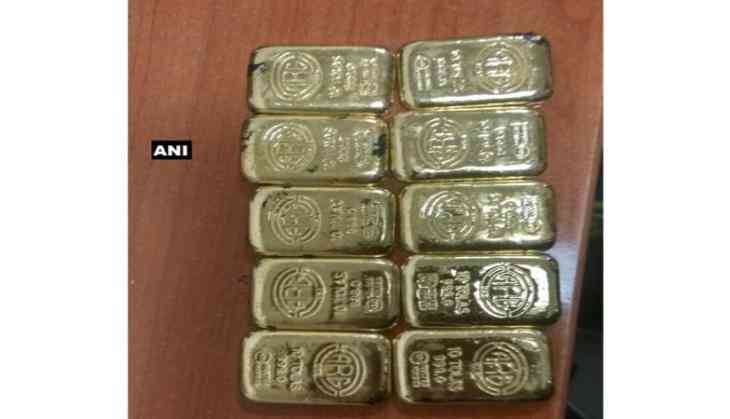 On specific intelligence, the officers of AIU rummaged Jet Airways flight no. 9W 535 which arrived from Dubai at 07:45 p.m. and recovered two unclaimed packets wrapped with black coloured adhesive tape concealed in the cavity behind the mirror in the left side rear toilet of the flight.
Each packet contained five foreign marking gold bars of 10 tolas each thus collectively weighing 1160 grams valued at Rs. 34,80,000/-.
The said gold bars were taken over and seized under panchnama dated 21.06.17 under the provisions of the Customs Act, 1962. Further investigation is underway.
Based on profiling, the officers of AIU intercepted one passenger on wheelchair namely Nimisha Jentilal Gudhka , a native of Jamnagar, Gujrat who arrived from Dubai by Jet Airways flight no. 9W 535.
The said passenger has concealed eight gold bars collectively weighing 660 gms valued at Rs. 19, 80,000/- inside his pant pocket worn by him and his wallet.
The same was recovered and seized under the provisions of the Customs Act, 1962.
The passenger in his statement recorded under Section 108 of the Customs Act, 1962 has admitted possession, knowledge, concealment and recovery of the said assorted gold bars which was being smuggled into India without payment of Customs Duty and in contravention of the Customs Act, 1962.
Gudhka has business of electronics and office furniture in Kigali, Rwanda. It has been revealed that to dodge the Customs check, he took the help of wheelchair.
On intervening night of June 21 and 22, the AIU officers have rummaged Jet Airways flight no 9W067 arrived from Bangkok, which resulted into recovery of 12 cut pieces of gold bars totally weighing 1998 gram valued at Rs.59,94,000/- and the passenger named Ravikiran Ghanshyambhai Gohel, a resident of Anand, Gujrat having Indian passport was intercepted.
He accepted carriage and concealment of said gold bars in the hollow pipe beneath the seats 26A and 27A. Goods were seized, case was booked and passenger was arrested.
-ANI