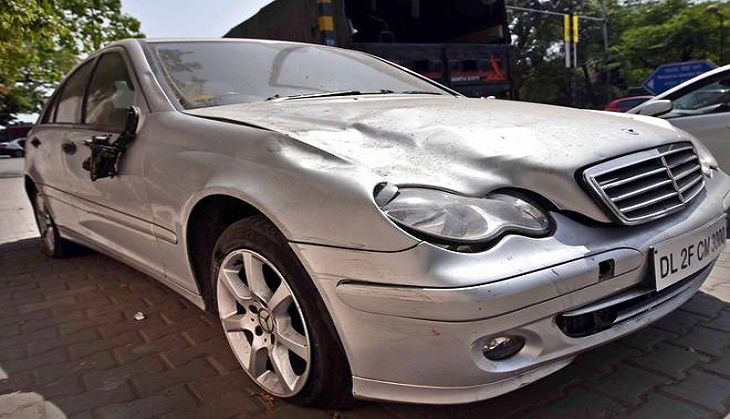 A Delhi Court today refused to cancel the bail granted to the father of a teenager, who had allegedly run over a 32-year-old marketing executive while driving a Mercedes in April.
The court said that there was no illegality in the magisterial court's order in the matter. Additional Sessions Judge Rajiv Mehra dismissed the plea of Delhi Police seeking cancellation of the bail granted by a magisterial court to businessman Manoj Aggarwal on the ground that the offence against him entailed up to 10 year term, saying it was without merits.
The court said the magisterial court had "correctly execised the jurisdiction enlarging Manoj Aggarwal on bail. The impugned order cannot be held suffering from either any illegality or any irregularity".
"No doubt that it is a case of a young death and it is the most tragic incident to the family members of the deceased but emotions cannot surpass the legal side of a given case," the court said. According to the police, the boy, who had turned major four days after the incident, had fatally run over Siddharth Sharma with his father's Mercedes when the victim was crossing a road near Ludlow Castle School in north Delhi on 4 April.
Special Public Prosecutor Atul Shrivastava had earlier argued that the magistrate did not have the power to grant bail to Aggarwal, who was released from jail on 10 April.
He had informed the court that prosecution had brought to the notice of magistrate that Aggarwal had earlier asked his driver to admit that it was he who was driving the car when it had hit the victim and not the juvenile.
Police's plea was opposed by advocate Rajiv Mohan, who appeared for Aggarwal, on the ground that his client had not violated any of the bail conditions and there was no reason to cancel his bail.
The sessions court, in its order, said the bail order of magisterial court was being sought to be recalled not because of any subsequent misconduct of Aggarwal but for the reason that the court was not within jurisdiction and the order has been passed without affording a proper hearing to the prosecution in this case.
"In the considered view of this court, the prayer of the prosecution to recall the order under such facts and circumstances is only to be declined. Application is thus dismissed having been without merits," the sessions court said.
--PTI