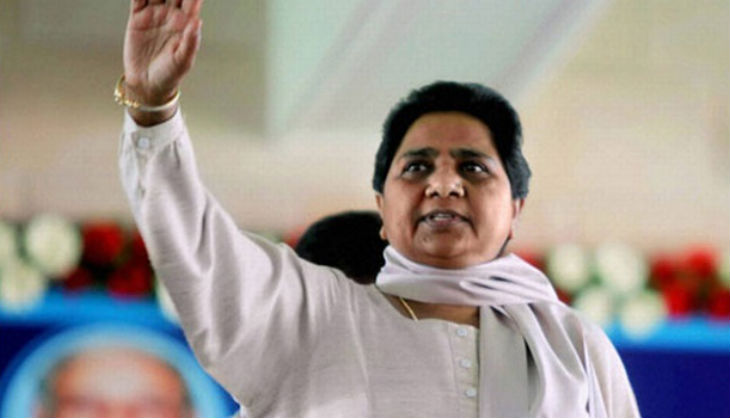 Addressing a huge gathering on Dr BR Ambedkar's birth anniversary in Lucknow, Bahujan Samajwadi Party supremo Mayawati on 14 April attacked the state government as well as the Centre. Virtually sounding the bugle for the 2017 Assembly elections in Uttar Pradesh, the BSP chief said that the Samajwadi Party (SP) and Bharatiya Janata Party (BJP) have "failed" on all fronts.
"Dump SP, BJP in the Assembly elections. Not just that, you ensure that their candidates forfeit their security deposits," Mayawati said at the rally.
The BSP president also ridiculed Congress vice-president Rahul Gandhi for "not taking cognisance" of Dalit students' suicides when his party was in power.
The former chief minister of Uttar Pradesh targeted everyone in her address.
"Now the 'yuvaraj' (prince) is indulging in theatrics," Mayawati said, referring to the Rohith Vemula suicide case in Hyderabad.
Interestingly, SP did not win a single seat in the last Lok Sabha elections. The party did not field any candidate for the by-polls held in 2014, just few months after the shocking LS poll-debacle.
Coming down heavily on the SP-led UP government in the state for "failing on all fronts", the BSP chief asked people to ensure a thumping majority for her party in the UP polls to usher in a "fear and corruption-free society".
Mayawati asked people to be wary of the Congress, BJP and SP, saying they indulged in just issuing hollow statements. She also slammed the Narendra Modi government for "failing" to get back black money stashed in foreign banks as promised during the LS elections.
"I have noticed that BJP's base is shrinking across the country," she said.
On Modi's foreign visits, Mayawati said he was embarking on these tours to "pat his back" and was "misusing people's money".
Mayawati alleged the BJP was trying to implement "RSS agenda" in higher education institutions and indulging in "dirty tricks" for this.
She also poked fun at the Modi government for its decision to run a bullet train between Mumbai and Ahmedabad with the help of Japan, saying it was of no use to the poor. "Had this money been spent elsewhere, schemes like MNREGS and others could have been started and the poor would have been helped," she said.
Referring to the issue of chanting Bharat mata ki jai, she said it was not mandatory and there were other ways to display patriotism. "We in BSP say Jai Bheem and Jai Bharat. Some say Jai Hind. It's not necessary to chant Bharat Mata Ki Jai, for which BJP is making a big hue and cry," she said.
Targeting Uttar Pradesh Chief Minister Akhilesh Yadav, Mayawati said, "How can one expect welfare from a person who is busy organising a lavish fair in Saifai (Etawah), undertaking foreign tours and playing matches with officers? Officers can ensure your victory in matches, but not in assembly polls."