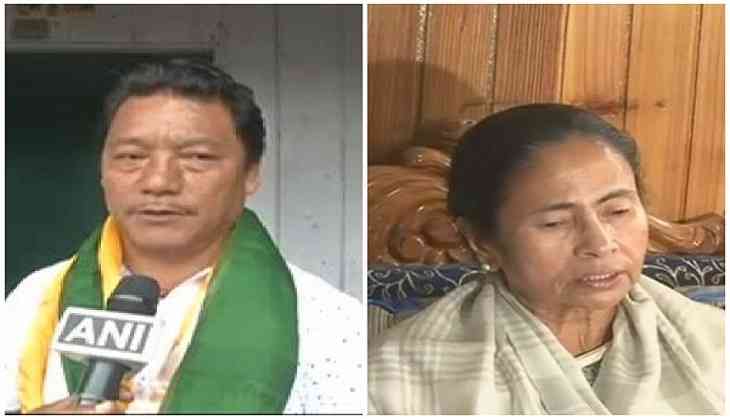 Gorkha Janmukti Morcha (GJM) chief Bimal Gurung on Sunday said West Bengal Chief Minister Mamata Banerjee was trying to divert their agitation into a different direction by claiming that the movement in Darjeeling hills was supported by insurgent groups of the north-east and some foreign countries.
He asserted the struggle for a separate Gorkhaland state would be intensified and if the police tries to stop them, it would only create more trouble.
"Chief Minister Mamata Banerjee said we have a link with north-east based terrorists group, which is totally wrong. She is trying to divert our movement and mislead people. We will continue with our movement. We will bring a mass rally for our three members who were killed. If the police tries to stop us, then it will create more problem," he added.
Mamata had on Saturday said that the GJM-led agitation in Darjeeling hills was a "deep-rooted conspiracy" supported by the insurgent groups of the north-east and some foreign countries.
Meanwhile, Union Home Minister Rajnath Singh has spoken to Mamata over the law and order situation in Darjeeling where the GJM has been leading a violent protest for seven days now.
Rajnath on Sunday took to Twitter and informed Mamata Banerjee had apprised her of the situation prevailing in Darjeeling.
"Spoke to West Bengal Chief Minister Sushri Mamata Banerjee this morning. She has apprised me of the situation prevailing in Darjeeling," he tweeted.
He further appealed to the people to help maintain peace in the conflict-hit region.
"I appeal to the people living in Darjeeling and nearby areas to remain calm and peaceful. Nobody should resort to violence," he added.
The situation remains tense as the indefinite bandh called by the Gorkha Janmukti Morcha (GJM) has entered the seventh day today.
As many as 36 policemen were injured on Saturday in clashes with the GJM supporters.
The GJM announced an indefinite strike from Monday encompassing Darjeeling and Kalimpong districts and the Dooars protesting against Mamata Banerjee's decision to make Bengali language compulsory in state-run schools.
The strike was called even after the Chief Minister assured that the new rule would not be imposed in the hill districts.
The protestors are also asking for a separate Gorkhaland, a long pending demand of the people of the hills.
-ANI