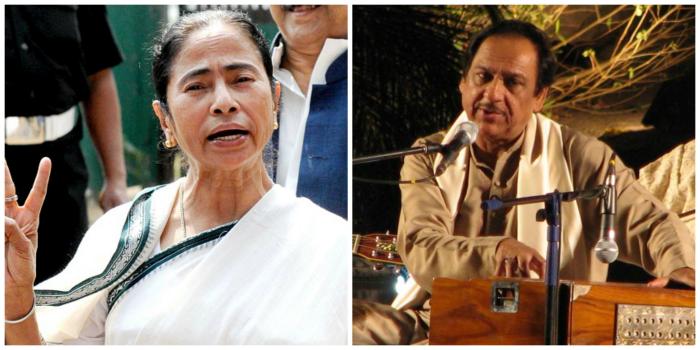 Pakistani ghazal maestro Ghulam Ali on Monday arrived in the city to perform at a concert here on Tuesday.
Organized by the state Minority Affairs and Madrasah Education Department, whose minister in-charge is Chief Minister Mamata Banerjee, the singer will perform at the inaugural function of a trade fair organized for small and medium enterprises.Banerjee will also attend the concert at Netaji Indoor stadium tomorrow evening. In October last year, the Shiv Sena had threatened to disrupt Ali's concert in Mumbai warning that no artiste from Pakistan will be allowed to perform in the city till terror emanating from across the border stopped. After the incident, Banerjee had invited Ali to the city.
"We are very happy to host him here," Minorities Development and Finance Corporation (MDFC) chairman and Trinamool MP Sultan Ahmed said.
He said tickets for the function will not be on sale and the entry will be restricted to invitations only. State's Information and Cultural Affairs Secretary Atri Bhattacharya said, "the event has been organised tomorrow dedicated to Swami Vivekananda on his 153rd birth anniversary. Ghulam Ali will perform for about two hours." "His son Amir Ali will be there along with him," Bhattacharya said adding,"the government do not foresee any security threat for him in the state."
"Some 12,000 passes have been issued, but there are a few only for public distribution. However, there will be direct feed for telecast," he said.
--PTI