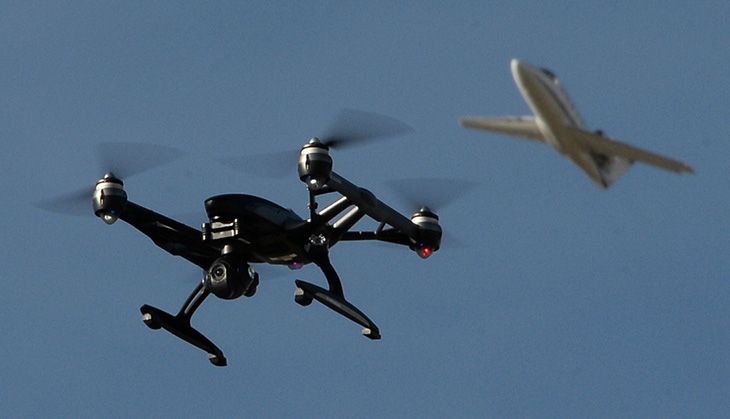 A meeting was held between officials of the Home department and Maharashtra State Road Development Corporation earlier this week at the Mantralaya here, which was attended by Kesarkar and PWD (undertakings) minister Eknath Shinde.
The Maharashtra government is considering using drones to monitor, identify and control vehicles breaking traffic rules.
According to reports, Minister of State for Home (Urban) Deepak Kesarkar said that in the pilot phase, drones would be positioned on the Mumbai-Pune expressway - which he claims has become a "death trap" for motorists.
"Incidents of road accidents have increased due to indiscipline and rash driving. We do not have control over rash driving as the length of the express way is long and there is insufficient police staff for surveillance," Kesarkar said
"The drones will be used at load line of the 'ghat' on expressway where setting up of CCTV cameras is not possible," he said.
"Mostly heavy loaded trucks jump lanes to overtake other big vehicles. This causes a traffic jam. The drones would click photos of such instances and the the Transport department will take action against errant drivers," he added
The minister said that even small vehicles would not be spared if they were found to be violating lane discipline.
He said the site of using drones has not been decided as yet but the MSRDC would submit its report suggesting requirement within the next 15 days
"Initially, four to five drone will be hired from private companies for the expressway. Depending upon the result, the Home department is considering to use drones across Mumbai," he said
Along with CCTVs, usage of drones in the island city would take the burden of traffic police riddled with various woes, Kesarkar said.
With the Maharashtra government mulling the use of drones to control traffic, here are a few fascinating facts about drones.
1. Be it research, defence, retail or photography, drones, or unmanned aerial vehicles (UAV), have found their way into every field.
2. 'Armed drones' were used to nab former Al-Qaeda chief Osama Bin Laden.
3. The United States and Israel are the main manufacturer of drones. Drones are manufactured in various sizes. They can be huge and also as small as a bee.
5. Drones can also be used to ferry passengers. The Ehang 184, which is still in the works, can carry a passenger and their luggage for short distances.
6. Business Insider predicts that the potential for the drone market will top $12 billion by 2021
--With agency inputs