Maharashtra chief minister Devendra Fadnavis has sent a legal notice to Congress leader Digvijay Singh, urging him to apologise for what he termed defamatory tweets.
On 18 March, the Congress leader took to Twitter to claim that the CM's wife Amruta Fadnavis's designation as the vice-president of Axis Bank was the reason why the CM had asked all Slum Rehabilitation Authority developers to open accounts in the Worli branch of the bank. Singh accused Fadnavis, who heads the the SRA, of nepotism.
Take a look: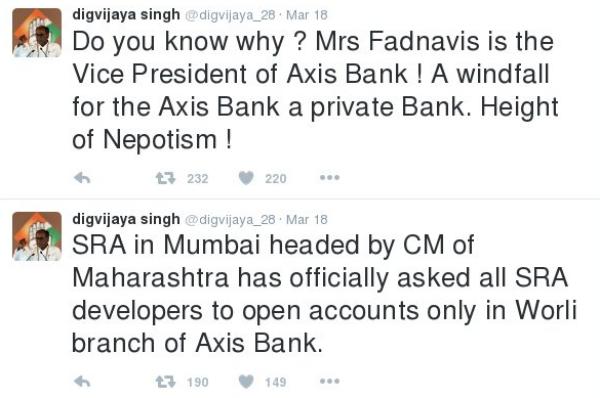 Fadnavis' lawyer told Singh to apologise to the CM on his Twitter handle within two weeks of receiving the notice.
The Times of India quotes the notice as saying:
"I am instructed to call upon you to make amends and to retract the allegations made by you against my client while simultaneously tendering an unconditional apology to him (CM) within two weeks on your same Twitter handle @digvijaya_28 after the receipt of this notice first at any of the three addresses mentioned above, failing which my client Devendra Fadnavis shall have no option but to initiate appropriate civil and/or criminal proceedings against you at your own risk as to the costs and consequences thereof of which please take a serious note. May wisdom prevail!"

"I hereby give you notice that if you fail to comply with the aforesaid requisitions within the stipulated period of one week, then I will be initiating legal proceedings either to prosecute you in a criminal court for defamation and/ or to sue you in civil court for the damages apart from seeking some incidental relief".