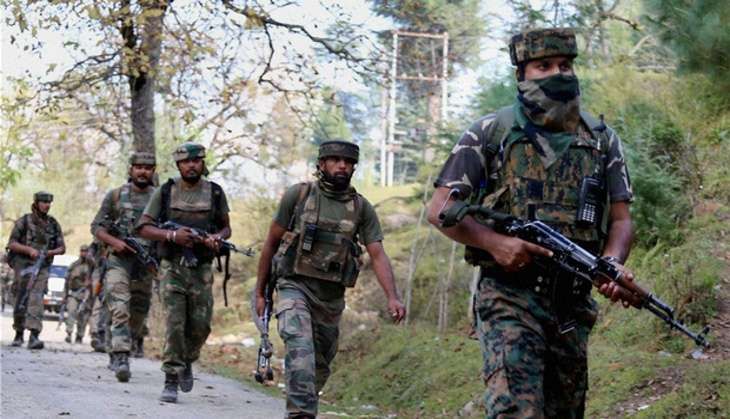 Three Indian soldiers were killed in an encounter with terrorists in Machhal sector of Jammu & Kashmir along the Line of Control on 22 November. According to the Northern Command of Indian Army, the body of one of the soldiers was also found mutilated.
Commenting on the issue, the Army said that the repercussion to this will be heavy. According to sources, Pakistan's Border Action Team (BAT) is believed to be behind the attack.
Earlier in the day, two terrorists were neutralised by the Army. Heavy artillery and new Rs 2,000 notes were recovered from them.
Also Read: Indian jawan killed, body mutilated. But does Pak have more sinister plans?
The incident occurred a day after a head constable of the BSF was killed and five others were injured in firing by Pakistani troops along the Line of Control (LoC).
This is the second time that the mutilated body of an Indian soldier has been found from the same sector. Both the mutilated bodies were beheaded. Commenting on this, an Indian Army spokesperson toldCatch, "In an encounter close to the LoC in Machil sector, in the evening of 28 October 2016, one soldier has been martyred and one terrorist killed. In a despicable act, the terrorist mutilated the body of the Indian soldier before fleeing into the PoK, supported by covering fire from Pakistan Army posts."
"This barbarism is a true reflection which pervades official and non-official organisations across the border."
More than 25 Indian soldiers have been killed in cross-border firing since the Uri attack on 18 September and the attack son the Indian side has been increasing at an alarming rate.
Since then, the Indian Army has claimed to have destroyed terrorist launch pads in Pakistan held J&K. Pakistan Army, on their part, has claimed to have killed seven Indian soldiers in retaliation.
The Pak Army last week had claimed that they shot down an Indian drone in the Rakh Chakri sector along the LoC, to which New Delhi denied the claims.
Last year, Pakistan Army had also claimed to have shot down an Indian drone which it had claimed was being used by the Indian Army for spying on them.
Tweeting about this, General Asim Bajwa said:
Indian Quad Copter shot down by own Aagahi Post in Rakhchakri Sec.Had intruded 60 Ms in Pak side of LOC,fell near own Agahi Post&taken over

— Gen Asim Bajwa (@AsimBajwaISPR) November 19, 2016
Reference my last tweet,Indian Quad Copter has been shot down by Pakistani troops at 1645,fell in Pak territory& taken over by Pak troops.

— Gen Asim Bajwa (@AsimBajwaISPR) November 19, 2016
Pakistan feeling isolated after the surgical strike carried out by India, has carried out quite a few infiltration bids in which soldiers belonging to both nations were killed. An official in the defence ministry told Catch that, "According to our intel, there has been a huge spike in infiltration attempts, 87 of which have been successful. Last year, there were at least 90 attempts to infiltrate the LoC of which only 35 were successful."
Also Read: Indian Army launches massive assault along LoC in retaliation to soldier's mutilation

The primary question that lies behind these escalated attacks could be the retirement of army chief Raheel Sharif.
Since Sharif is arriving his retirement, he might want to escalate attacks with India and maybe provoke India to retaliate, even to the point of war, so that his tenure could be extended. Following which he could possibly stage a coup and take control of the State as well.
However, a senior officer in the military thinks both these theories are short-sighted and incorrect.
"As far as the issue of the locations of cross-border firing is concerned, the Pakistan Army has no need to be impatient and fire down south to distract our troops' attention. As we saw in the case of Kargil, terrorists can easily sneak and dominate higher reaches even at the peak of winter. Troops along the LoC are very alert after Uri. And as even the Pak army would well know, nobody will fall for this kind of distraction."