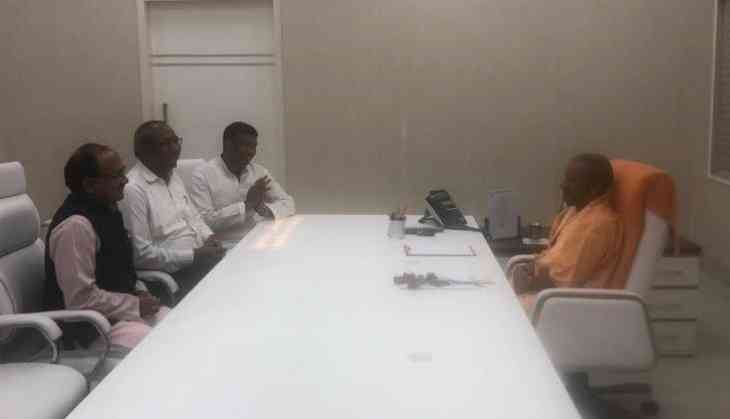 Sanjay Nishad meets CM Yogi
In a twist of tales for the 'anti-Modi' alliance in Uttar Pradesh, the Opposition backed Nishad Party has quit the SP-BSP-RLD tie-up and is likely to join the BJP, as the party is unhappy over no ticket allotment in the seat-sharing deal.
Nishad Party's chief Sanjay Nishad, along with other party functionaries have met UP CM Yogi Adityanath and are likely to join the BJP ahead of the 2019 elections. It was the Nishad Party, backed by the Akhilesh Yadav and Mayawati which defeated the BJP in its own bastion of Gorakhpur, the seat held by CM Yogi Adityanath from last 25 years.
Sanjay Nishad, in a statement has said, "Akhilesh Yadav had said he'll make an announcement on seats for our party. But they didn't put our name on poster/letter or anything. My party workers, authorities, core committee was upset."
Nishad Party chief Sanjay Nishad meets Uttar Pradesh Chief Minister Yogi Adityanath in Lucknow pic.twitter.com/MNvdVzOiXQ

— ANI UP (@ANINewsUP) March 29, 2019
Although, the SP's district president Prahlad Yadav has stated, "Their move makes no difference to us as we won the Gorakhpur bypoll under the leadership of SP chief and not due to the Nishad party. Earlier too we fielded Praveen only after he joined the SP."
In a situation where a triangular contest is at play with SP-BSP-RLD, Congress and the BJP in the battleground in Uttar Pradesh, it is being speculated that it will be a close contest and these caste specific parties, who have a substantial vote bank, can be vital in increasing the vote share and might outplay the bigger parties in the state.
UP will vote in all seven phases, beginning from April 11 and with 80 seats in its pocket, the road to Delhi will always lead through Lucknow. Counting and result declaration will happen on May 23.
Also read: Ahead of Amit Shah's filing of nomination from Gandhinagar, NDA's show of strength