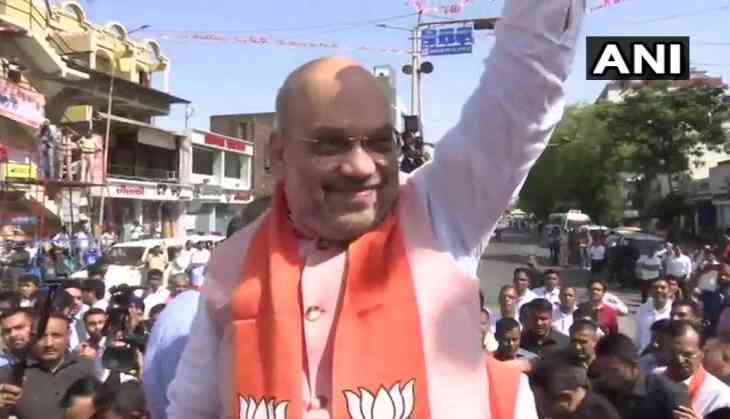 In the run up to the Lok Sabha polls, the BJP president Amit Shah is all set to debut from the patriarch Lalkrishna Advani's Gandhinagar seat and ahead of his nomination filing, the NDA is showcasing its strength.
A Rajya Sabha MP Amit Shah will be contesting the Lok Sabha polls for the first time here in 2019.
In the mega public rally ahead of the nomination filing, Amit Shah was greeted by a huge number of party workers and cadres in Ahmedabad. BJP is vying to win all the 26 seats of the Assembly and repeat their results of 2014 election.
Ahmedabad: BJP President Amit Shah pays tribute to Sardar Vallabhbhai Patel, he will file his nomination for Gandhinagar parliamentary constituency today. #Gujarat pic.twitter.com/HL1a0fupMx

— ANI (@ANI) March 30, 2019
In the show of strength by the NDA, Home Minister Rajnath Singh and Union Minister Nitin Gadkari would be accompanying Amit Shah in the public rally. Some major ally partner like Shiv Sena's Uddhav Thackeray, Akali Dal's Prakash Singh Badal, Lok Janshakti Party's Ram Vilas Paswan will also be present, as claimed by a BJP leader.
Amidst the nomination filing, BJP president will pay tribute to Sardar Vallabhbhai Patel in Ahmedabad. In Gujarat's Gandhinagar, veteran leader Lalkrishna Advani has been contesting since last six times and had won the seat for the first time in 1991 by defeating GI Patel of the Congress. In 2014, Advani won by a margin of more than 4 lakh votes.
In Gujarat, the last date for filing nominations is April 4 and the voting will take place of April 23. Gujarat is considered to be the Hindutva laboratory of the BJP and other right-wing groups.
Also read: Sonakshi Sinha opens up on father Shatrughan Sinha quitting BJP: It's too late, should've done it long back'