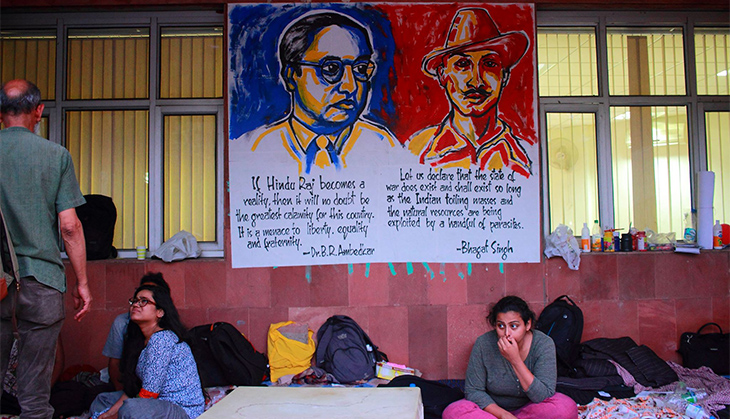 JNU students Umar Khalid and Anirban Bhattacharya who were rusticated for participating in a commemorative event on campus against the hanging of Parliament attack convict Afzal Guru, moved Delhi High Court on Monday challenging their punishment.
Students at JNU have been on a hunger strike for 12 days now, in protest against the punishments handed out by the university authorities after an internal panel investigated the event. Teachers have also been fasting in relays since Sunday. Both students and teachers have boycotted the panel report, calling it unrepresentative.
Also on Monday, JNU vice chancellor M Jagadesh Kumar set up another committee to negotiate with the striking students, according to The Telegraph.
"Our appeal to the court is to quash this High Level Enquiry Committee report which violates the principles of natural justice," said Umar Khalid. "We were in jail during the probe and had no chance to defend ourselves."
Both Umar and Anirban were arrested after the Afzal Guru event on sedition charges for allegedly raising anti-national slogans. They surrendered to the police on 23 February and released on bail on 18 March, while the committee was formed on 11 February and released its report on 11 March.
Based on this report, the university penalised 19 students and two academics from other universities.
Umar and Anirban have filed separate petitions asking the court to quash the report.
"The nature of the punishments is such that it affects Umar and Anirban more than most of the others," said Umar's lawyer Rebecca John. "The HLEC did not follow due process and the punishments are completely arbitrary."