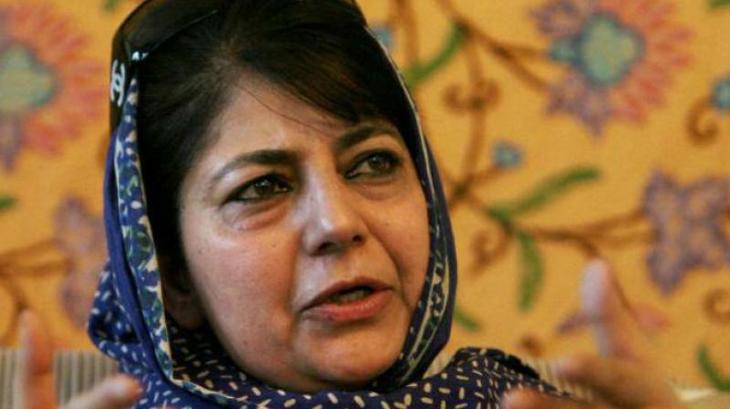 On the eve of the visit of an all-party delegation to Jammu and Kashmir, Chief Minister Mehbooba Mufti today called for engaging all sections of the society, including Hurriyat Conference, in a credible and meaningful political dialogue for resolution of the problems in the Valley.
The country's political leadership must, without any further delay, reach out to and engage all sections of the society, including leaders of the Hurriyat Conference, in a productive dialogue process to resolve the issue and make peace a reality in Jammu and Kashmir, she said while visiting the family of a person killed in firing by security forces.
70 people have been killed and thousands injured in violence in Kashmir Valley following the killing of Hizbul Mujahideen militant Burhan Wani in an encounter on 8 July.
"Visited the family of late Mashooq Ahmed, firing victim of Kund, Kulgam and offered heartfelt condolences to the bereaved family... The loss of human lives is a colossal tragedy and every one should strive for peace in J&K," she posted on Facebook.
The Chief Minister said it is perhaps for the first time that the Kashmir issue has been, during the past two months, discussed in so many forums and at so many levels including Parliament and at all-party meetings where judicious views were put across by all shades of the country's political opinion on how to end the stalemate.
The need of the hour is to build on this larger political consensus within the country and initiate tangible measures to address the issue, she said.
Mehbooba said the present situation in Kashmir calls for every right thinking party, group or individual to rise to the occasion and strive for finding ways and avenues for the restoration of peace and resolution of the problem.
"Right now Kashmir is again embroiled in a burning situation and we have hope that all sides will pick up elements of sanity and pragmatism and strike a new benchmark towards the resolution of the problem in light of the global and sub-continental realities," she said.
While the separatist leadership shall also have to take a step forward, the Centre on its part shall have to put off the fire on internal discontent, Mehbooba said.
Congress, CPI(M) and many other parties pitched for holding dialogue with "all stakeholders", including Hurriyat, to douse the unrest in Kashmir, at a meeting held by the government in New Delhi today to brief the MPs who are part of the 30-member delegation about the visit to the state on 4-5 September.
-PTI