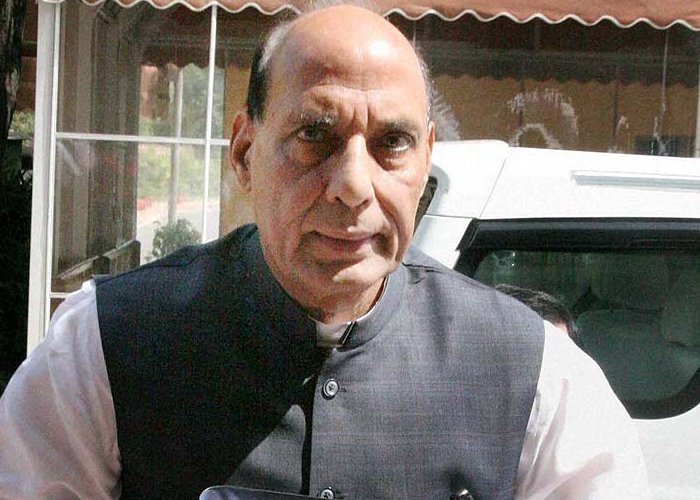 India wants cordial relations with Pakistan and Nepal and will do everything to further improve ties with its neighbours, Home Minister Rajnath Singh said today.
"Pakistan is our neighbouring country. We want very cordial relations with Pakistan. But Pakistan too has to reciprocate," he told reporters at a 'Diwali Milan' here.
Asked about Nepal, which has been witnessing protests by Madhesis over adoption of a new Constitution, Singh said New Delhi wants very good relations with Kathmandu too.
"We want very good relations with Nepal too. We will do everything for betterment of our relations with our neighbours," he said.
Asked whether differences have crept in the ruling PDP- BJP alliance in Jammu and Kashmir, the Home Minister said the coalition government in the state will continue.
"Alliance will continue. There is no threat to it," he said.
Commenting on the protests during the recent visit of Prime Minister Narendra Modi to Jammu and Kashmir, Singh said such incidents had taken place in the past too.
"But you should remember that only a handful people were there (in protests), he said.
Singh said law-and-order situation in Jammu and Kashmir has improved to a great extent and ever since the NDA government came to power in the Centre in May 2014, 165 militants belonging to Lashker-e-Taiba, Hizbul Mujahideen and others, were eliminated.
Giving statistics about the infiltration attempts from across the border, he said in 2013, there were 277 infiltration attempts of which 97 were successful and security forces killed 67 militants during the year.
In 2014, there were 220 attempts of infiltration in which 67 were successful and security forces killed 110 militants during that period.
In 2015, till September 30, there were just 86 attempts of infiltration in which 86 were successful and 89 militants were killed.
-PTI