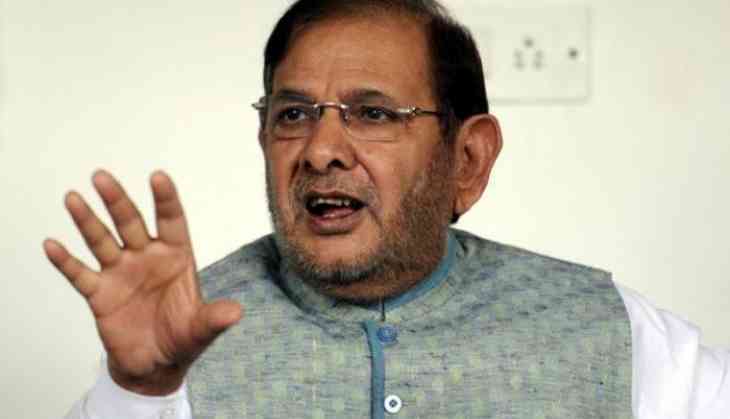 Increasing OBC creamy layer bar a peanut: Sharad Yadav
A day after Centre increased the creamy layer bar for the Other Backward Classes (OBC) by Rs. two lakh for government jobs, rebel Janata Dal (United) leader Sharad Yadav on Thursday slammed the government and said it is a peanut for the marginalised sections.
The Union Cabinet on Wednesday increased the creamy layer ceiling for the Other Backward Classes (OBC) category to eight lakh rupees per annum from the existing six lakh for central government jobs.
"They have increased the creamy layer ceiling from six lakh rupees per annum to eight lakh. This is nothing but a peanut. Even a security guard's annual salary is Rs. eight lakh. We don't have any hope from them. We don't think they will work in our favour," Yadav told ANI.
However, Bihar Deputy Chief Minister Sushil Modi congratulated Prime Minister Narendra Modi and the Bharatiya Janata Party (BJP) led Central Government for raising the creamy layer ceiling.
"I want to congratulate PM Modi ji first of all. Today he gave rights and opportunities to backward societies and communities. When we were in government in 2005 that time we gave power to backward sides. In that similar direction today Modi ji government gave 27 percent reservation to them. Prime Minister Modi is more concerned for below backward communities," he told ANI.
Besides increasing the creamy layer ceiling, the cabinet also announced setting up of a commission to examine sub-categorisation within Other Backward Classes (OBCs) for a "more equitable distribution of reservation benefits".
The Commission will take up the exercise of identifying the respective castes, sub-castes, communities and synonyms in the Central list of OBCs and classifying them into their respective sub-categories. The Commission will submit its report within 12 weeks from the date of appointment of Chairperson.
Briefing media in New Delhi today, Finance Minister Arun Jaitley said, the decision is based on the recommendation of National Commission for Backward Classes (NCBC).
The 'creamy layer' is a ceiling which bars members of the Other Backward Classes from availing reservations in employment.
Presently, if an OBC family's income is up to Rs 6 lakh then it is entitled to 27 per cent reservation in government jobs and seats in educational institutes.
There had been three revisions of the creamy layer bar which was fixed at Rs one lakh in 1993 and hiked to Rs 2.5 lakh in 2004 and Rs 4.5 lakh in 2008.
The present ceiling of Rs six lakh came into being in 2013.
-ANI