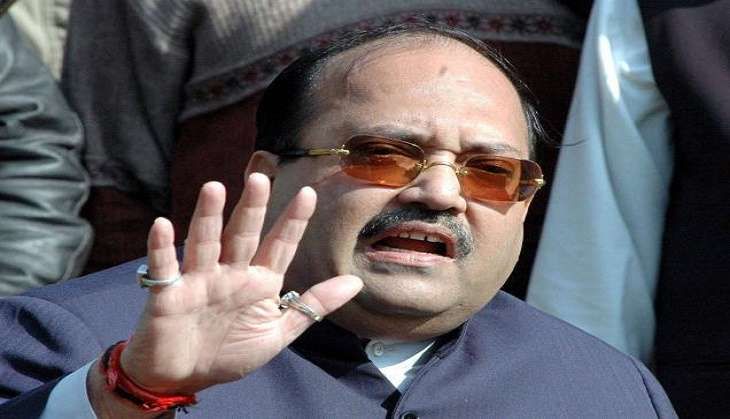 Back in Samajwadi Party (SP) after six years, Amar Singh today said he knows his limitations and will in no way overshadow Chief Minister Akhilesh Yadav with the "uncle syndrome".
Singh said he has also learnt a lesson not to take a stand and be "pragmatic like the Bachchans".
"I will maintain a balance in politics and family ties. That means, Akhilesh on one hand is nephew and Chief Minister on the other," he said, adding he will in no way overshadow the CM with the "uncle syndrome".
"I am member of undeclared 'Margdarshak Mandal' of SP. It will be active or dormant depending on our new leader Akhilesh. I have no reason to complain or sulk. I have played my innings. Now I will be cool, patient, dormant and non-competitive in my approach," said Singh.
Taking lessons from the past, the newly elected Rajya Sabha member said he will not be over enthusiastic in taking initiatives and will not try to overshadow Akhilesh.
"Unless told, I don't want to take unnecessary interest and initiative which can be counter-productive and imprudent. I am not here for power politics and placement," Singh said.
"In the past six years, a pragmatic shift of power has taken place and is active. The next in command is Akhilesh Yadav. My love, affection is with him due to personal relations," he said, adding he had learnt to live without any assignment.
He said after a gap of six years, there is "emergence of new successful brigade" in the party and it will be thing of "observation and learning" for him.
About party leader Azam Khan's stand against him, Singh said, "Anyone close to Mulayamji in any way is adorable to me and criticism of Azam against me will be full of reasons and I respect that."
On uniting Thakur community for the party ahead of the 2017 UP Assembly polls, Singh said, "I don't want to become leader of any casteist block."
"Those flocking around me had collectively forced me to ensure the MLC ticket for Ravishankar Singh Pappu. I took a tough stand due to my relations with former PM Chandrashekhar and it was the main bone of contention between me and the party leadership," Singh said.
"Now circumstances and time have changed, its ironical that those Thakur friends are no longer seen around me. To err is human to accept error is divine," he added.
Singh said he has learnt a "bitter lesson - not to take stand and be pragmatic like Bachchans and erstwhile Thakur loyalists. It keeps you non controversial, available, acceptable and adaptable to any situation. To live life without spine is fruitful".
"I have no fear of falling down, I want to chill as I am 50 plus and at this point of my life my focus and priority will be my personal health, wife and two kids," Singh said.
On his relations with Bollywood star Jaya Prada, Singh said she stood behind him like a shadow.
"It's amazing that she is happy with my nomination in RS. I am unhappy that despite my best effort I could not accommodate her. She refused the Congress and BJP because of me, whereas I have accepted the RS nomination. She sacrificed her political career for me. I know my limitations. I am no longer a decision maker of SP and not in a position to recommend any suitable accommodation to those who stood by me," he said.
"I accepted the RS nomination because of Mulayam ji," said
Singh had earlier stated that he was in Mulayam's 'dil' (heart) which was larger than 'dal' (party).
On his entry in the Rajya Sabha again, Singh said, "I have no element of ecstasy or desperation but a sense of gratitude towards his (Mulayam's) emotions and feelings for me. I have decades of association with him (Mulayam), I know his way of thinking, his political skills and response to a situation."
"I will not like to comment on any controversy or contradictory situation as my health does not permit. I may not complete my tenure. I have seen the pinnacle of glory."
-PTI