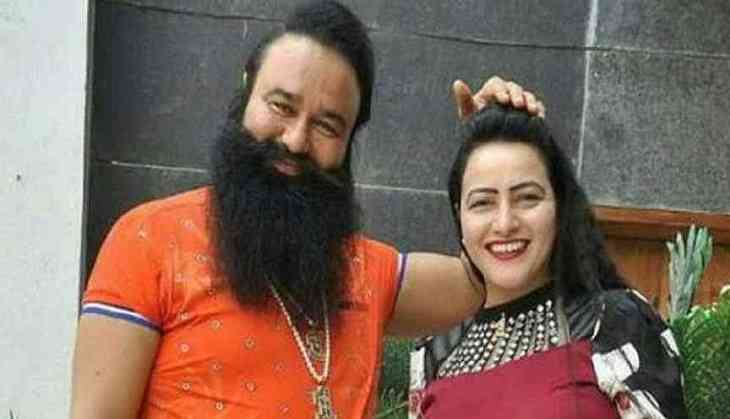 Honeypreet Insaan, the lady who is getting headlines these days, is the adopted daughter of the Dera Sacha Sauda chief, Gurmeet Ram Rahim Singh. She followed his father to the chopper while he was being taken to the jail on Friday when the special CBI court gave its verdict. He has been accused of raping two of his female disciples in 2002.
Read more: Here are the latest developments on Qaidi no. 1997 Gurmeet Ram Rahim's sentencing
Honeypreet Insan is one of the top contenders for being the next Dera Sacha Sauda chief. Her real name is Priyanka Taneja and she belongs to Jagjeevanpura of Fatehbaad. She is divorced and stays in the Dera since then. Not only has she worked hard in the Dera but has also helped in the direction of the movie MSG.
Her grandfather has been the adherent of Ram Rahim since a very long time and their family left their ancient home and started living in the Dera. Her father Ramanand had a showroom named Kisaan Tyres on the National highway. Honeypreet's original name was Priyanka Taneja and was also called Anu by the loved ones. She has completed her early studies from the DAV School in Fatehabad.
Read more: 7 shocking facts about Ram Rahim's daughter Honeypreet Insan who could be Dera's successor
Priyanka got married under the influence of Ram Rahim in 1998. She got married to Vishwas Gupta, an old Dera follower on 14 Feb 1999. However, her husband Vishwas was the only one who went to the court regarding an illicit relationship between Dera Chief Gurmeet Ram Rahim and his wife Honeypreet Insan.
After her divorce, Gurmeet Ram Rahim adopted Priyanka and changed her name to Honeypreet Insan. Since then she has been living like the shadow of Ram Rahim in Dera. Last year, she has contributed a lot to the films 'MSG'.
After he was declared guilty of raping 2 women by a special CBI court in Haryana, people are looking forward to making Honeypreet the successor of Dera. The reason why she has the close proximity of being the successor because she doesn't have any blood relationship with Gurmeet Ram Rahim which further increase her chances in the race.