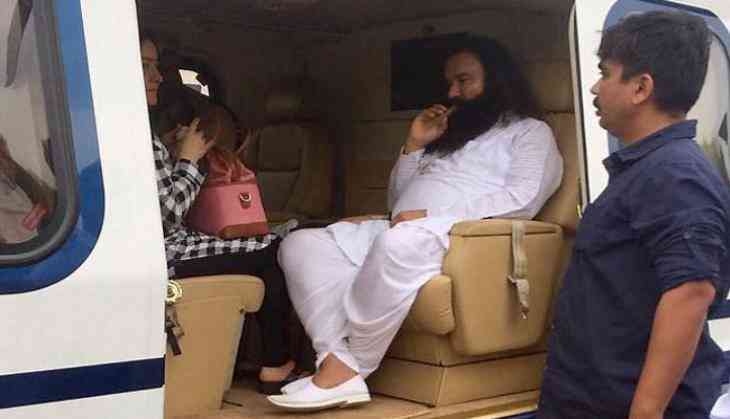 1. Gurmeet Ram Rahim Singh Insan, the Dera Sacha Sauda chief has been sentenced 10 years of jail at a special court near Rohtak, Haryana on Monday.
2. Two cars have been burnt by the protestors of Gurmeet Ram Rahim in Sirsa. The Punjab CM has called for an emergency meeting. The quantum of sentence in this case will be read in a court which is being specially set up inside the District Jail premises where Ram Rahim was brought and lodged after his conviction.
3. The judge of the special CBI court is Jagdeep Singh had on Friday held Ram Rahim guilty of rape and criminal intimidation of the two female disciples in 2002.The judge had already flown to Rohtak where he will pronounce the sentence against the Dera Chief.
4. Movement of people will be allowed within a distance of 10 km from the prison premises.
"We have ensured no Dera follower is allowed to enter the entire Rohtak district or move around jail. Several barricades with strong police and paramilitary presence have been set up, we're ready to deal with any eventuality," Navdeep Singh Virk, IGP Rohtak Range told ANI.
5. Shoot at sight orders have been issued against any anti-social elements Rohtak District Collector (DC) Atul Kumar. He was reported by ANI where he said,"We will not allow anyone to create any sort of trouble in Rohtak. Anyone breaking law or indulging in acts of violence or arson will himself be responsible for his fate. Anyone creating trouble will be given a warning first and if he still pays no heed, then he will have to face the bullet,"
6. The neighbouring areas have been put on high alert and Section 144 is already in place in Rohtak and Sirsa.
7. "Fake traffic advisory circulated, no such advisory has been issued. No road closures, metro remains as per schedule. Schools will remain open tomorrow. There are no instructions from Delhi Police to close them. Social media rumors should not be believed," Delhi Police PRO Madhur Verma was quoted as saying by ANI.
8. The internet services will remain suspended in Haryana and Punjab and also on the premises of the Dera Sacha Sauda till 11:30am on Tuesday.