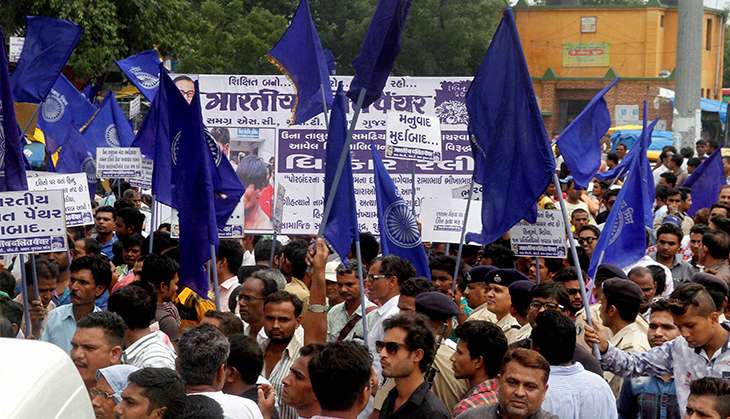 Protests intensified in Gujarat on 20 July after Dalit rights organisation, Dalit Panthers, called for a state-wide bandh to protest the brutal thrashing of Dalit youths in Una town of Gir-Somnath district last week.
According to media reports, schools and colleges in the state remained closed. Additionally, State transport bus services were also suspended.
Parts of Gujarat have been tense after seven members of a Dalit family were allegedly beaten up for skinning a dead cow in Mota Samadhiyala village of Una taluka in Gir Somnath district on 11 July.
The protests have also turned violent in the last two days. State transport buses have been targeted by angry protesters while 10 Dalits have attempted suicide as a part of the protests.
An angry Dalit mob also threatened to dump carcasses across Gujarat's Saurashtra region on 18 July. The protesters used tractors to bring cow carcasses and dumped them outside the District Collector's office. The mob also dumped the dead bodies near government offices in Gondal and Surendranagar.
Four members of Bablu Sarvaiya's family were tied to a car and beaten with sticks and iron pipes. A video of the incident went viral, following which the police took action.
--With PTI inputs