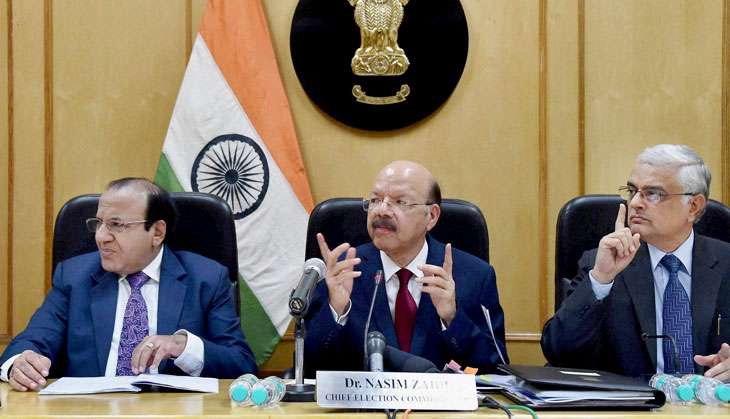 EC announces Assembly poll dates for five states in 2017. Photo: PTI
The Election Commission announced the poll dates for five state Assemblies - Uttar Pradesh, Punjab, Manipur, Goa and Uttarakhand.
A press conference was held at noon, on 4 January, where Chief Election Commissioner Nasim Zaidi announced a list of dates including the last date of filing nominations, when each state will vote, the day of counting and other details related to security, transparency, facilities etc.
Poll dates
Uttar Pradesh: 11, 15, 19, 23, 27, February, 4, 8 March
Punjab: 4 February 2017
Manipur: 4 March 2017, 8 March 2017
Goa: 4 February 2017
Uttarakhand: 15 February 2017
State-wise details
Uttar Pradesh: 11, 15, 19, 23, 27, February, 4, 8 March
Election will be held in 7 phases for a total of 403 assembly constituencies
Phase 1
-73 constituencies
-15 districts
Districts: Shamli, Muzaffarnagar, Baghpat, Meerut, Ghaziabad, Gautam Buddha Nagar, Hapur, Bulandshahar, Aligarh, Mathura, Hathra, Agra, Firozabad, Etah, Kasganj
Date of notification: 17 January
last date of nomination: 24 January
Date of scrutiny: 25 January
Date of withdrawal: 27 January
Polling date: 11 February
Phase 2
-67 assembly constituency
-11 districts
Districts: Saharanpur, Bijnor, Moradabad, Sambhal, Rampur, Bareilly, Amroha, Pilibhit, Kheri, Shahjahanpur, Badaun
date of notification: 20 January
last date of nomination: 27 January
Date of scrutiny: 28 January
Date of withdrawal: 30 January
Polling date: 15 February
Phase 3
-69 constituencies
-12 districts
Districts: Farrukhabad, Hardoi, Kannauj, Mainpuri, Etawah, Auraiya, Kanpur Dehat, Kanpur Nagar, Unnao, Lucknow, Barabanki, Sitapur
date of notification: 24 January
last date of nomination: 31 January
Date of scrutiny: 2 February
Date of withdrawal: 4 February
Polling date: 19 February
Phase 4
-53 Assembly constituencies
-12 districts
Districts: Pratapgarh, Kaushambi, Allahabad, Jalaun, Jhansi, Lalitpur, Mahoba, Hamirpur, Banda, Chitrakoot, Fatehpur, Rae Bareli
Date of notification: 30 January
last date of nomination: 6 February
Date of scrutiny: 7 February
Date of withdrawal: 9 February
Polling date: 23 February
Phase 5
-52 constituency
-11 districts
Districts: Balrampur, Gonda, Faizabad, Ambedkar Nagar, Bahraich, Shrawasti, Siddharthnagar, Basti, Sant Kabir Nagar, Amethi, Sultanpur
Date of notification: 2 February
last date of nomination: 9 February
Date of scrutiny: 11 February
Date of withdrawal: 13 February
Polling date: 27 February
Phase 6
-49 constituency
-7 districts
Districts: Maharajganj, Kushi Nagar, Gorakhpur, Deoria, Azamgarh, Mau, Ballia
Date of notification: 8 February
last date of nomination: 15 February
Date of scrutiny: 16 February
Date of withdrawal: 18 February
Polling date: 4 March
Phase 7
-40 constituency
-7 districts
Districts: Ghazipur, Varanasi, Chandauli, Mirzapur, Bhadohi, Sonbhadra, Jaunpur
Date of notification: 11 February
last date of nomination: 18 February
Date of scrutiny: 20 February
Date of withdrawal: 22 February
Polling date: 8 march
Punjab: 4 February 2017
Elections in Punjab will take place in single phase
-117 assembly constituency
Date of notification: 11 January
last date of nomination: 18 January
Date of scrutiny: 19 January
Date of withdrawal: 21 January
Polling date: 4 February
Manipur: 4 March 2017, 8 March 2017
Elections in Manipur will take place in two phases
-60 assembly constituencies
Phase 1
-38 assembly constituency
Date of Notification: 8 February
last date of nomination: 15 February
Date of Scrutiny: 16 February
Date of withdrawal: 18 February
Polling date: 4 march
Phase 2
-22 assembly constituency
Date of Notification: 11 February
last date of nomination: 18 February
Date of scrutiny: 20 February
Date of withdrawal: 22 February
Polling date: 8 march
Goa: 4 February 2017