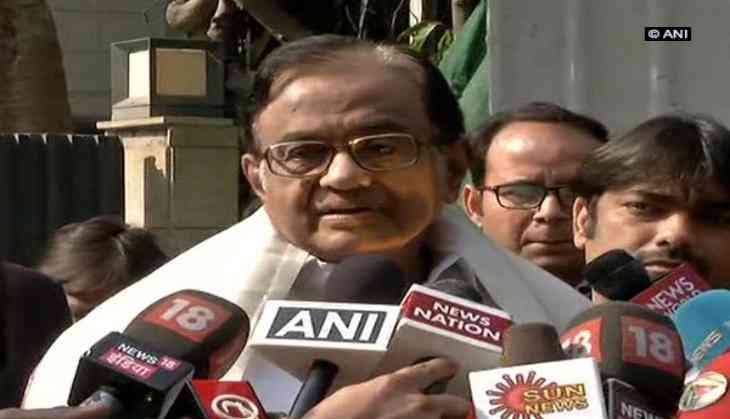 Congress leader and former finance minister P. Chidambaram on 13 January said that the Enforcement Directorate (ED) officials found nothing during the raid at his son's Karti Chidambaram's residence, therefore, took away a few documents to justify themselves.
Chidambaram said the ED has "no jurisdiction" to conduct such searches under the Prevention of Money Laundering Act (PMLA).
"They (ED officials) searched and found nothing but since they had to justify themselves they took papers of a statement made by the government in the Parliament, a few years back. The ED has no jurisdiction to investigate under the Prevention of Money Laundering Act (PMLA)," Chidambaram told the media here.
He also said that there is no FIR concerning a scheduled crime by the Central Bureau of Investigation (CBI) or any Police agency.
"Yesterday, the Supreme Court issued notice on the cases filed by my son Karti Chidambaram. These cases have been filed sometime ago, notices were issued yesterday and the respondents were asked to file their reply if they wish to and the cases posted for hearing on January 30. The main ground in the case is that there is no FIR in respect of a scheduled crime registered by any police agency including the CBI," said Chidambaram.
Chidambaram also said he had yesterday itself anticipated that as the notices were issued by the SC, "the ED has to conduct some drama in order to cover up some track and hence will conduct searches in Chennai."
Speaking about the raid at Delhi's Jor Bagh, Chidambaram said, "In the comedy of errors they (ED) came to search the premises in Delhi's Jor Bagh and offices and told me they believed that Karti Chidambaram was the occupant of the house I told them otherwise."
Earlier in the day, The Enforcement Directorate (ED) conducted a raid at former union minister P. Chidambaram's son Karti Chidambaram's homes in Delhi and Chennai in the Aircel-Maxis case.
According to sources, the ED officials reached there at 7.30 a.m. There were about five officials at their residence.
In October last year, during investigation ED found that Foreign Investment Promotion Board (FIPB) approval given by P. Chidambaram in Aircel-Maxis case was beyond his mandate.
The law enforcement agency, in its investigation, also found that the amount of FIPB approval was wrongly projected to conceal the facts.
It also found that the company promoted by Karti and P Chidambaram's nephew allegedly received two lakh dollars from Maxis Group in the guise of software consultancy.
The Aircel-Maxis deal refers to a series of allegations of kickbacks in the telecom sector, which was part of the wider 2G scam that engulfed the UPA regime.
In 2011, former Aircel head C. Sivasankaran complained to the CBI that he was being forced by then telecom minister Dayanidhi Maran to sell Aircel to the Malaysia-based Maxis Communications group owned by T. Ananda Krishnan.
-ANI