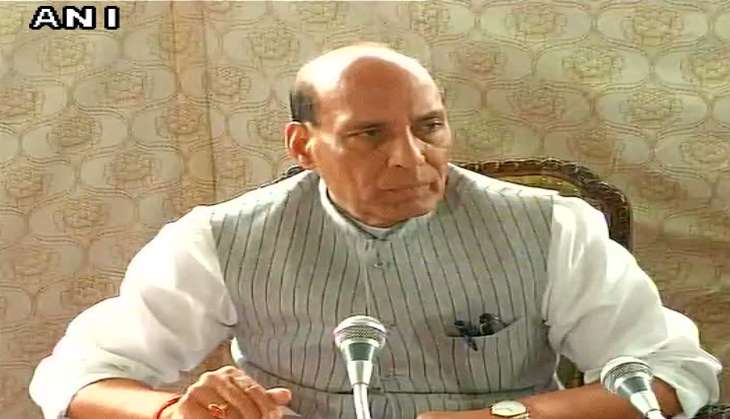 A delegation of Muslim clerics today met Union Home Minister Rajnath Singh and said that the members of the all-party delegation that went to Kashmir should have followed his instructions and not tried to meet the Hurriyat members.
"We met the Home Minister today. It was a good meeting. We talked about the Kashmir issue. We can say it with confidence that our Home Minister will solve the matter. Some people, met the separatists. They should not have done that. They should have followed Rajnath Singh's instructions," said Maulana Ansar Raza, the chairman of Garib Nawaz Foundation.
Also read: Kashmir unrest: Ready to hear everyone out, say leaders as all-party delegation arrives in Valley
Raza said talks should be held with those who raise slogans of 'Hindustan Zindabad'.
"Why talk to the Hurriyat people who raise 'Pakistan Zindabad' slogans? Talks should be held with those who raise slogans of 'Hindustan Zindabad'. All the imams of the Dargahs of India should form a delegation under Rajnath Singh and visit Kashmir and talk about the Sufism Bill then this problem will get solved," he added.
Maulana Raza said Kashmir was a part of India and it would remain so. On 4 September, Kashmiri separatists refused to talk to the members of the all-party delegation, as they went to meet them as part of efforts to end the two-month-long unrest in the Valley following Hizbul Mujahideen terrorist Burhan Wani's killing.
Also read: Kashmir unrest: Youth killed in clashes, death toll rises to 71
Repelling the notion that the all-party delegation visit to Jammu and Kashmir was a "failure", the Home Minister had on 5 September said that the delegation will now meet in Delhi to chalk out an action plan for the government on measures that it needed to take in future in Jammu and Kashmir.
Also read: Rajnath Singh: Separatists don't believe in 'insaniyat, Kashmiriyat, jamuriyat'
The delegation was in Srinagar on 5 September and had visited Jammu before returning to Delhi.
Before winding up the visit, the Home Minister sent out a clear message to separatists, asserting that Jammu and Kashmir will always remain an integral part of India. He, however, said as far as talks are concerned, doors are open to everyone, who want peace and normalcy.
Divulging details of the meeting in Jammu, the Home Minister said, "As many as 200 people comprising 18 delegations interacted with the all-party delegation. They expressed their concern over the situation in Kashmir and were of the opinion that the problems in the Valley should be resolved at the earliest. Besides, they also merited the attention of the all-party delegation towards the problems of the Jammu region."
Also read: Kashmir unrest: Over 100 injured in Shopian clashes, mini-secretariat building set ablaze
--ANI