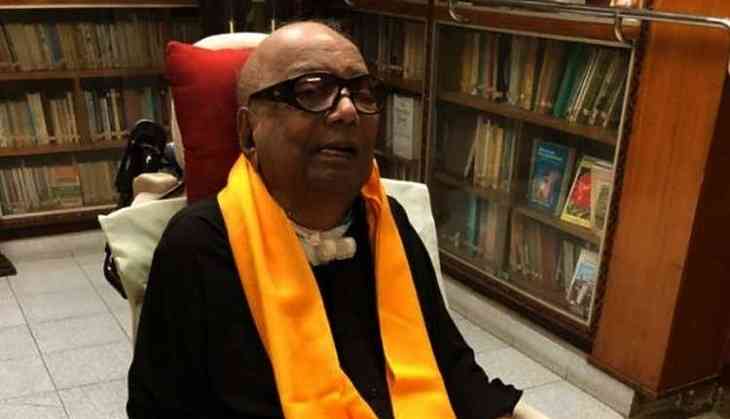 The AIADMK-led Palanisamy government has faced outrages for rejecting the DMK's request of a land for a burial of M Karunanidhi's mortal remains next to the grave of his political mentor CN Annadurai along Marina beach.
DMK the party led by Karunanidhi-- nearly for five decades made a sharp attack on Palanisamy government and approached the Madras High Court against the AIADMK's denial of the burial site to the late DMK president at Marina beach. The DMK said the AIADMK's refusal to permit the burial was plain and simple "political vendetta" and "reeks of pettiness".
"We are not asking for a memorial at this stage... but only that he should be buried next to his mentor, Anna," DMK spokesperson and lawyer A Saravanan told reporters after the Madras High Court's unprecedented hearing past midnight. The court has resume hearing at 8 am on Wednesday.
"We also informed the court how the government is proposing to construct a 3,400-3,500 square feet building for Ms Jayalalithaa's memorial but is refusing to give 6 feet of land for Karunanidhi," the DMK leader said, a reference to a Rs 50 crore memorial that the AIADMK government is planning to build for its leader. The memorial is modelled on a phoenix to symbolise Jayalalithaa's grit and political comebacks.
"They (AIADMK government) want to test the emotional patience of the DMK cadres," he said.
DMK's lawyer says, 'You (state govt) have announced state mourning, why not give land for burial? There's no prohibition under Central Govt protocol to allot land at Marina beach for ex-Cms. He added 'There are 1 crore DMK followers in Tamil Nadu out of 7 crore population of the state. They'll be offended if burial land is not allotted for Karunanidhi at Marina beach.'
Also read: Karunanidhi Funeral: Madra HC is yet to decide about Kalaignar burial at Chennai's Marina Beach