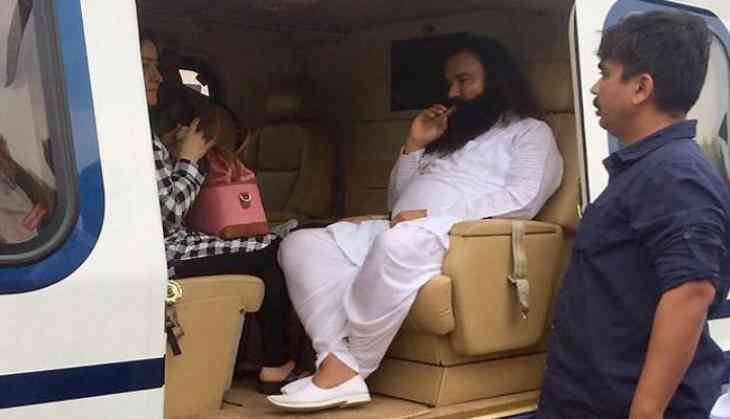 Ram Rahim had 'sexual relations' with his daughter alleged Honeypreet
In a latest development in controversial spiritual leader Gurmeet Ram Rahim rape case, there are several reports claiming that self-styled godman Ram Rahim Singh had 'sexual relations' with his daughter Honeypreet.
On Friday, after the Dera chief was convicted in the rape case of two women, Honeypreet had accompanied him to Rohtak and was also spotted in helicopter sitting with Ram Rahim.
According to Hindustan Times, Honeypreet was married to Vishwas Gupta, a Dera follower from Sirsa, in the year 1999.
Vishwas's grandfather Rulia Ram Gupta who was a former MLA from Gharaunda constituency had became devotee of Dera Sacha Sauda and were "lured by the Dera head to sell off their agricultural land and property".
The proceeds were deposited with Dera factories and it was agreed that the amount would be returned to Guptas whenever asked for but the agreement was allegedly breached later.
In 2011, Vishwas has filed a petition in the High Court in which he asserted that the Dera chief has an alleged sexually relation with her wife Honeypreet.
In an article quoted by Hindutan Times in 2011, the petitioner alleged that his wife has not been allowed by Dera head to stay with him "even for a day and she has been kept by him all the time in the Dera by enticing her with intention to have illicit sexual intercourse with her" knowing well that she is a legally wedded wife.
"…petitioner's belief was shattered when one night petitioner was in Dera Sirsa and he happened to enter the room (guffa) of Dera head and saw the Dera head totally nude and having sex with petitioner's wife," alleged the petitioner, a resident of Panchkula.
Later, the petitioner's family decided to shift from Panchkula due to the constant threats from Dera's people for not opening his mouth.
As far as the current situation is concerned, the curfew has been imposed in Sangrur, Moga and Patiala district of Punjab. Security stepped up after violent protests by Dera followers in the state.
Section 144 imposed in Uttarakhand's Nainital and Noida, Ghaziabad and Meerut district of Uttar Pradesh.
Gurmeet Ram Rahim was convicted in the rape case of two women on 25 August. The special CBI court found him guilty of the crime and the verdict led to violence in Haryana and Delhi NCR.
The self-style godman has been taken into the custody and now the question is – who is going to be the successor of Dera properties?
Punjab-Haryana court has given a historic decision to seize the properties of the Dera. But still people are eager to know that who is going to be the next owner of the Dera.