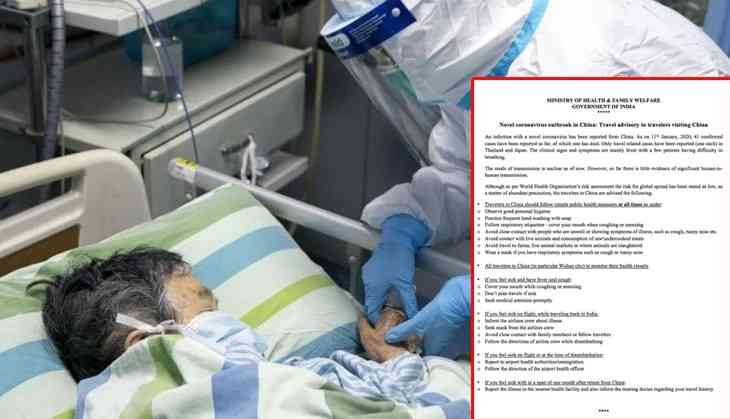 The deadly viral outbreak in China has killed more than 40 live and the number of infected cases has increased to nearly 1,300. Wuhan and 13 other cities in Hubei have been locked down in an unprecedented effort aimed at containing the deadly respiratory contagion, which has also spread to several other countries.
Meanwhile, the Health and Family Welfare Ministery in India has issued a travel advisory to the travelers visiting China.
According to a statement released by the ministry, the mode of the transmission of the virus is unclear, however, the little evidence of significant human-to human-transmission. The WHO's risk assessment of the risk for global spread has been stated as low.
With the statement, the Ministry has issued precaution and travel advisory for travelers.
Follow Simple Health Measures:
The Health Ministry has urged travelers to follow simple health measures.
Observe good personal hygiene
Practice frequent handwashing with soap
Follow respiratory etiquettes - cover your mouth when coughing or sneezing
Avoid close contact with people who are unwell or showing symptoms of illness, such as cough, runny nose etc Avoid contact with live animals and consumption of raw/undercooked meats
Avoid travel to farms, live animal markets or where animals are slaughtered
Wear a mask if you have respiratory symptoms such as cough or runny nose
The ministry has also issued special guidelines for those who are traveling to Wuhan City.
The ministry has asked travelers to monitor their health closely. As per the note, the health ministry has asked the travelers to:
Cover mouth while coughing or sneezing
Don't Plan travelers if sick
Seek medical attention promptly
Novel #coronavirus outbreak in #China: Travel Advisory to travelers visiting China.@PMOIndia @drharshvardhan @AshwiniKChoubey @PIB_India @NITIAayog @MoCA_GoI @MEAIndia pic.twitter.com/cRZghPZXiR

— Ministry of Health (@MoHFW_INDIA) January 25, 2020
Apart from this the advisory also states, if a traveler feels sick on a flight while traveling back to India, he or she should inform the airline crew members about the illness. The passenger should seeks a mask from the crew members and avoid close contact with co-passengers and follow the direction of the airline crew member.
On January 21, the Ministry of Civil Aviation directed for all logistics support and arrangements to be made immediately with regard to screening of passengers arriving in India from China including Hong Kong at the identified airports
Also Read: China coronavirus spreading: Symptoms, steps to reduce chances of catching infection