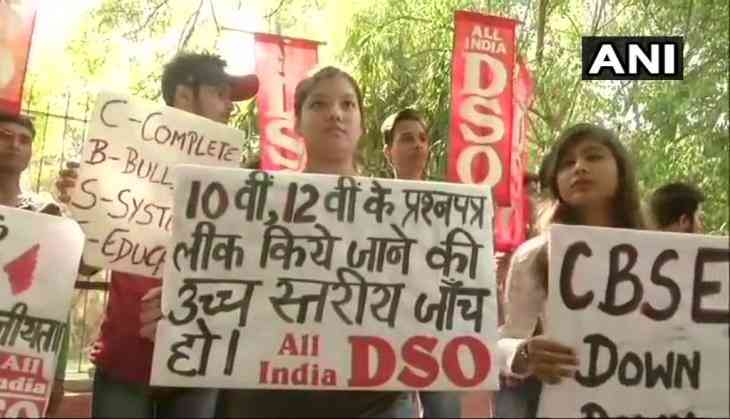 After the announcement made by the CBSE to re-conduct the board examination for Class 10th Mathematics and Class 12th Economics due to paper leak. Today, students have gathered to show their protest over the Board's decision at Jantar Mantar. In this matter, the opposition political party also criticized the government including the CBSE.
Now, Bollywood celebrities also jumped into the issue to show their expression. Know what Bollywood celebrities said about the CBSE paper leak issue.
Before knowing about the celebrities expression, check out what Congress President Rahul Gandhi posted about the CBSE paper leak issue.
कितने लीक?

डेटा लीक !
आधार लीक !
SSC Exam लीक !
Election Date लीक !
CBSE पेपर्स लीक !

हर चीज में लीक है
चौकीदार वीक है#BasEkAurSaal

— Rahul Gandhi (@RahulGandhi) March 29, 2018

Bollywood actor and singer Farhan Akhtar also supported the current situation of the students who will have to re-appear for the exam again and wished them good luck.
See his tweet:
Feel terrible for all students who have to re-sit their exams for no fault of their own. So unfair and unfortunate. Wish them strength to get through this time. #CBSE #SSC

— Farhan Akhtar (@FarOutAkhtar) March 29, 2018
After Farhan Akhtar, Bollywood actor Emraan Hashmi also takes a jibe at the entire event. He wrote on his Twitter handle that 'After the unfortunate paper leak, the acronym CBSE has a new meaning..... "Corrupt Board For Students' Education " !!
Feel terrible for all students who have to re-sit their exams for no fault of their own. So unfair and unfortunate. Wish them strength to get through this time. #CBSE #SSC

— Farhan Akhtar (@FarOutAkhtar) March 29, 2018
Joining the matter, Vivek Anand Oberoi also wrote that 'So disappointing to hear about the #CBSE leak. This is completely unacceptable & unfair to the students who have put in so much hard work & dedication. I appeal to all the students to not let this affect their preparation & to think of it as a 2nd chance to do even better! ATB!'
‏


So disappointing to hear about the #CBSE leak. This is completely unacceptable & unfair to the students who have put in so much hard work & dedication. I appeal to all the students to not let this affect their preparation & to think of it as a 2nd chance to do even better! ATB!

— Vivek Anand Oberoi (@vivekoberoi) March 28, 2018